Massachusetts home sales increased in September, the third quarter and through the first nine months of 2015, and the median home price has increased modestly, The Warren Group, publisher of Banker & Tradesman, reported October 27, 2015.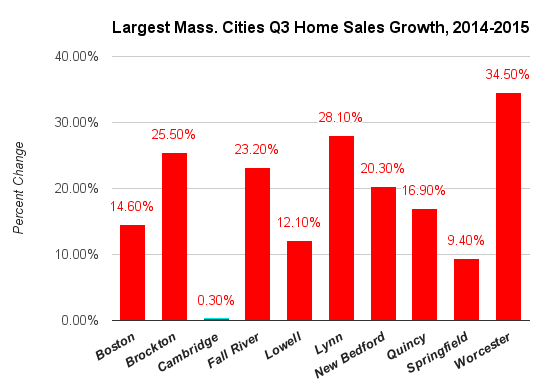 After single-family home sales increased 16 percent on a year-over-year basis in August, homebuyers had an even greater appetite for homes in September, with home sales increasing 25.3 percent compared to September 2014. With 5,430 home sales in September, it was the most September home sales since September 2005. Single-family home sales increased 21.7 percent to 18,793 sales in the third quarter compared with 15,447 sales Q3 2014, and through the first nine months of 2015, home sales increased 10.1 percent compared with the same time frame in 2014. There have been more than 40,000 single-family houses sold through September.
The median sales price for single-family homes sold in September in Massachusetts was $330,000, a 3.1 percent increase from September 2014's median price of $320,000. From January through September, the median sales price in Massachusetts was $342,000, a 2.1 percent increase over the $335,000 median home price during the same nine-month period in 2014.
Unfortunately for homebuyers looking in Boston or in some of the surrounding cities and towns, home prices increased more than the statewide median price and inventory has been tight. Median single-family home prices through September in Brookline, MA increased 9.33 percent; increased 8.07 percent in Cambridge, MA; increased 45.66 percent in Charlestown, MA; increased 10.49 percent in Newton, MA; incraesed 5.55 percent in Needham, MA; increased 13.64 percent in Revere, MA; and increased 15.74 percent in Somerville, MA.
Real estate inventory remained tight in many Boston area cities and towns in September, according to data compiled by the Massachusetts Association of Realtors. Although about six months supply of inventory is considered a balance market for homebuyers and sellers, Brookline, MA had just 1.5 months supply of condo inventory in September, and Arlington, MA had just 0.8 months of condominium inventory. Melrose, MA had 1.5 months of single-family inventory in September. The lack of inventory has been a source of great frustration for potential homebuyers over the past 12 to 24 months.
Condo sales also jumped in September, up 19.6 percent to 2,059 sales compared with 1,722 units sold in September 2014. Through September condo sales increased 4.8 percent to 16,626 units sold compared to 15,865 condominiums sold during the first nine months of 2014.
The median condo price in September was flat, decreasing just $500 to $300,000, a 0.2 percent decline. From January through September, Condo prices also were flat, increasing 0.9 to $317,500 compared to $314,800 through September 2014.