Coming in at number four in Money magazine's 2012 list of America's Best Places to Live, Newton appears to be the ideal New England community.
With highly-rated public schools and close proximity to Boston College and MIT, education is paramount to this community, its residents and the many Massachusetts home buyers that consider buying a home there. Those who opt to purchase Newton, MA real estate find themselves in a community that highly values education.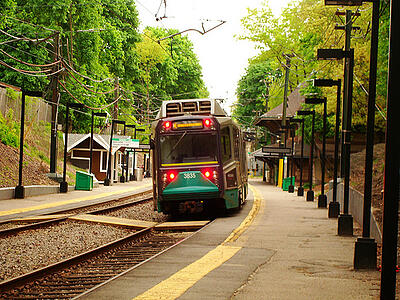 Newton was founded in 1688 as part of the city of Cambridge. As it developed its own unique sense of community, its location just seven miles from Boston made it popular with those in the market for homes who wanted a suburban community. Newton sits near the Massachusetts Turnpike, Route 9 and Route 128, so access to downtown Boston and surrrounding high-tech and medical companies is simple. For those who prefer to leave their cars behind, MBTA runs light rail, bus service and commuter rail to the city. The Green Line "T" has two branches that run through Newton, taking people from the center of Newton to Boston, while buses run from the northern villages to the city.
As a highly desirable community, Newton offers a variety of home types to interested home buyers. Historic and period homes in both colonial and Victorian styles are common in Newton, as the area has a rich, well-established history. Because the area attracts affluent buyers, large estates can be found in many neighborhoods throughout the community's villages. Newton, MA home buyers can also find newer construction and even modern condos for sale in Newton. Since Newton borders the Charles River and also has its own lake, home buyers can easily find homes and condos that overlook the water.
Through the first half of 2015, the median price of a single-family house in Newton, MA was $1,198,568, up from $875,000 during the same period in 2013. Of the 256 single-family homes sold from January through June 2015, more than 150 sold for more than $1,000,000. The most expensive sale price was $5,495,000 and almost $2 million more expensive than the most expensive sale price ($3,750,000) during the first half of 2013. Only two homes sold for less than $400,000 in Newton during the first six months of 2015.
The median price of the 146 condominium units sold in Newton, MA during the first six months of 2015 was $597,400, an increase from $479,000 during the same period two years before (2013). The least expensive condo sale price was $150,000, and the most expensive sale price for a condo was $1,800,000. More than half of the condos sold through June were sold for $500,000 or more.
The city of Newton is broken down into 14 villages, each of which has its own post office and often its own schools and neighborhoods. While the villages have their own names, the borders are not clearly defined, and this fact causes some confusion for people looking for Newton, MA condos and homes for the first time as they try to figure out the various addresses that homes in the area can have.
Many of the villages have their own downtown areas, where easy access to shopping, dining and entertainment awaits those who own Newton, Massachusetts real estate or otherwise live in the community. In these downtowns, residents and visitors will find unique boutique shops, local eateries and a pleasant small-town atmosphere that belies the fact that Newton is the state's eleventh largest city.
Newton Centre's downtown is the largest of the villages, and this village is also home to Newton's City Hall. Newton Centre's central feature is the 33-acre Crystal Lake. Lined with Newton, MA homes, Crystal Lake boasts two community parks and a public beach. When water quality allows, the community hosts summer swimming lessons for area children in the lake.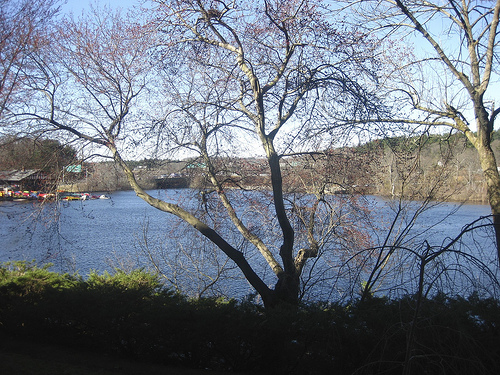 Crystal Lake is not the only park area that a Newton, MA home buyer will benefit from. The town boasts several well-maintained parks, bike paths and open spaces, as well as the Hammond Park Reservation and the Charles River. The opportunities to spend time outdoors are abundant for those who live in Newton, and this adds to the friendly feel of the community. These outdoor attractions have made Newton highly desirable among those who need to purchase property close to Boston, and they are part of the reason that Newton, Massachusetts real estate has retained its value so well in down markets.
In addition to the parks and recreation opportunities in Newton, its museums and cultural attractions provide education and entertainment for residents. One of these is the McMullen Museum of Art, which has an extensive collection of pieces from Portuguese and Japanese artists. The Newton History Museum, housed in the Jackson Homestead, is also popular because of its exhibits highlighting the history of Newton and New England.
The people of Newton are dedicated to keeping their community beautiful, while also doing their part to improve the environment throughout the state. The town participated in a tree bank program that brought more 6,800 tiny trees to its streets. Newton also made a name for itself as the first city with mandatory recycling for its residents.
With its rich history, friendly community and excellent schools, all within seven miles of Boston, Newton has much to offer the local home buyer and those home buyers looking to relocate. It's no wonder Newton is considered one of America's best places to live.
Newton, MA Homes For Sale
Newton, Massachusetts Single-family Home For Sale
Newton, Massachusetts Condominiums For Sale
Sign Up For a Custom MLS Account
First photo by James (Pylon757) and second photo by Timothy Vollmer, both via Creative Commons license.