After a decade of rising home prices in Massachusetts, it's not surprising prospective homebuyers are asking, "Will the real estate market crash in 2022?"
Historically low interest rates, bidding wars, and double-digit price increases over the past two years have homebuyers and others in the real estate industry wondering whether a market crash is on the horizon. Greater Boston's housing market has been on fire.
In 2019, the year before the COVID-19 pandemic sucker-punched our economy, the median home price in Massachusetts increased 3.3 percent and above $400,000 for the first time. After eight years of rising prices, many homebuyers wondered whether the pandemic would spur a real estate market crash. It didn't happen. The median single-family home price jumped 11.4 percent in 2020. Home prices accelerated in 2021, spiking 15.2 percent statewide to $530,000.
What is Driving the Rapid Rise in Home Prices?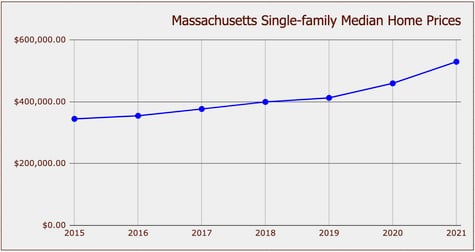 It's simply a matter of supply and demand, with an assist from attractive mortgage interest rates. According to MLS Property Information Network, Inc, the Greater Boston area's multiple listing service, 28,232 single-family, condominium, and multi-family homes were for sale on February 26, 2011. On February 26, 2022, there were 4,107 homes on the market, 85.4 percent less real estate inventory in the Boston area than 11 years ago. Statewide, the number of single-family homes for sale dropped 50.1 percent in January 2022 on a year-over-year basis. The number of condo units available fell 56.1 percent in January.
A balanced market between home buyers and sellers is about six months of inventory, meaning that at the current pace of sales, it would take six months to run out of homes for sale. In Massachusetts, there were 0.5 months of supply of single-family inventory in January 2022. That's 50 percent less than January 2021.
The lack of inventory has led many prospective home buyers to offer to pay above the listing price in recent years. Many homebuyers – already shell shocked from the previous year's brutal market – bid up prices even more in 2021, spending on average 102.9 percent of the original list price for single-family houses. Frankly, after getting outbid five, 10, or more times, some home buyers grew increasingly desperate to put a home under agreement. Besides offering well above the listing price, many homebuyers waived contingencies, such as the home inspection or appraisal.
Bidding wars were much more fierce in cities and towns close to Boston. On average, Arlington homebuyers paid 108.6 percent of the original list price for single-family homes. It was much of the same in other communities: Lynn, 105.4 percent; Milton, 103.7 percent; Melrose, 107.3 percent; Westwood, 103.6 percent; and Andover, 105.5 percent.
Of course, interest rates that for a while were below 3 percent helped consumers afford the ever-increasing cost of purchasing a home in the Boston area. Those low rates fueled home price inflation.
Prospective homebuyers are not the only consumers facing increasing housing costs. Low inventory and rising home values – thus keeping high-income renters from purchasing – have made Boston the third most expensive city to rent in the country in February, according to the Zumper National Rent Report. The median one-bedroom rent price in Boston spiked 31.7 percent on a year-over-year basis to $2,700. Two-bedroom rents rose 23.6 percent to $3,090.
Related: Should Massachusetts Homebuyers Buy a Flipped Home?
Today's Real Estate Market is Not 2008
The 2008 real estate market crash had its origins in the staggering growth of the subprime mortgage market. United States government-sponsored mortgage lenders Fannie Mae and Freddie Mac made home loans accessible to borrowers with low credit scores and a higher risk of defaulting on loans. Relatively low interest rates and loosened lending standards, including small or no down payment requirements, allowed consumers who would otherwise never qualify for a home loan to purchase a home and become homeowners. At least until many of them were foreclosed on. Easy money for nearly anyone who wanted it drove home prices higher, creating an unsustainable bubble.
Today, lending standards are stricter. While first-time homebuyer programs allow down payments as low as 3 percent and down payment assistance, prospective borrowers must prove their income and have good credit scores to qualify for most loans. Some low down payment mortgage loans limit the size of the loan, thus reducing the risk of default.
Prices have risen dramatically over the past two years because of sound fundamentals – supply versus demand, with help from consumer-friendly interest rates – instead of risky lending practices.
Home-buying Consumers Sending Mix Signals
Tracking Internet search trends is one way to predict or understand consumer behavior. Google Trends normalizes search data to make comparisons between terms easier.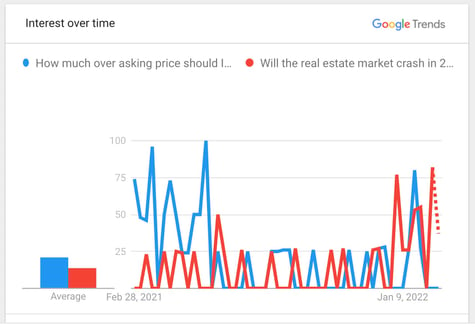 According to Google Trends, its search results are normalized to the time and location of a query by the following process: (1) Each data point is divided by the total searches of the geography and time range it represents to compare relative popularity; otherwise, places with the most search volume would consistently be ranked highest; (2) The resulting numbers are then scaled on a range of 0 to 100 based on a topic's proportion to all searches on all subjects; and (3) Different regions that show the same search interest for a term don't always have the same total search volumes.
Two popular search phrases may indicate a split in consumer thinking about the current real estate market. Both "How much over list price should I offer" and "Will the real estate market crash in 2022" have spiked in searches in recent weeks. For the week of January 2, 2022, through January 8, 2022, "Will the real estate market crash in 2022" reached 77 on Google Trends. From January 23rd through the 29th, "How much over list price should I offer" reached 80. "Will the real estate market crash in 2022" increased on the scale to 82 for the week of February 13th through the 19th.
Related: Massachusetts Homebuyers Regret Waiting Too Long to Prepare to Buy a Home
What's Going to Cool Off the Real Estate Market
The only way the real estate market will level off is with more inventory and less demand. There isn't enough buildable land in the Boston area to significantly increase the number of single-family homes. Outside of the City of Boston, developers are not building condominiums but are focused on apartments.
After steadily rising home prices, home buyers might finally be getting fatigued from the crazy Greater Boston real estate market. Some prospective homebuyers already have or will throw in the towel. It's unlikely those individuals alone will impact the demand side of the equation.
Others will try to time the market, stepping to the sidelines to see what happens. Trying to predict the direction of the real estate market is a fool's errand. Those who decided to stop looking in 2020 because they thought the real estate market would crash because of COVID-19 – not an unreasonable calculation – lost at least 20 percent in gains.
Mortgage interest rates are on the rise, making homes less affordable. Not long ago, homebuyers were locking in interest rates below 3 percent. The 30-year, fixed-rate mortgage loan averaged 4.06 percent for the week ending February 18, 2022, the Mortgage Bankers Association (MBA) reported February 23, 2022.
The higher interest rates have resulted in fewer consumers applying for mortgages to purchase a home for three straight weeks, the MBA reported. The seasonally adjusted "Purchase Index" decreased 10 percent from one week earlier. The unadjusted Purchase Index decreased 6 percent compared with the previous week and fell 6 percent from the same week in 2021.
Other than some unexpected shock to the economy, higher home prices and rising mortgage interest rates will likely be the main drivers if the real estate market changes its current upward trajectory.
The Real Estate Market Likely Will Not Crash in 2022
Anything is possible, especially given the current geopolitical turmoil in Europe, but the Boston area real estate market probably will cool off a bit but not crash.
Double-digit home price increases are not sustainable. Add the spike in median home prices to rising interest rates, and fewer prospective homebuyers will be able to afford to buy a home in Greater Boston. Those two factors will temper demand some but probably are not enough in the near term to significantly increase inventory.
Prospective home buyers should understand real estate markets differ from state to state and within a state.
Real estate is local, and the market will vary significantly from city to city and town to town within Massachusetts. If the market does cool off, the temperature won't be the same everywhere. It's critical to understand market trends in the communities you want to buy a home.
It also makes sense to purchase a home you feel comfortable living in for at least six to eight years, thus protecting yourself from potential temporary downward market fluctuations.
Finally, those homebuyers who have successfully navigated the current Boston area real estate market showed persistence and prepared for their home search with a professional, dedicated team.