In real estate, a "flip," or "flipped home," is when a real estate investor purchases a home that typically is in some stage of distress, makes repairs to and updates the property, intending to resell it quickly to a homebuyer for a profit.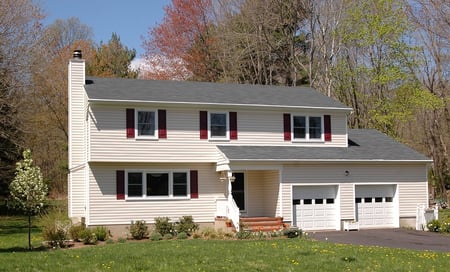 Homebuyers should know – especially first-time homebuyers – that not all investors or others flipping a home will make necessary and quality repairs before putting the property up for sale. Other than permits required by local municipalities, laws surrounding the removal or disturbance of lead paint, and requirements for smoke and carbon monoxide detectors, there are no other laws in Massachusetts – or New Hampshire and Rhode Island – protecting a consumer purchasing a home.

How Do Homebuyers Know it's a Flip?

There are several ways for home-buying consumers to identify whether a house, condominium, or multi-family property is a flip. None of the listed signs below guarantee a home is a flip, but all are common with house flipping.
1. Public records and the most recent deed should reflect any recent sales, even for a foreclosure, auction, or private sale. If there was a recent sale to a known developer or an LLC (e.g., the seller is 100 Main Street, LLC), who is now reselling the property, there is a high likelihood it's a flip.
2. Brand new, never-used appliances, fresh paint, the smell of polyurethane from the recently refinished flooring, or new carpeting in vacant properties are other tells.
3. If a property is marketed as "newly renovated" with a description like "seller has never lived in the property," but the home is not an estate sale or a rental, it's probably a flip.

What are the Advantages of Buying a Flip?

Most homebuyers prefer to buy a home that does not need significant repairs and is move-in ready. Buying a flip might be beneficial cosmetically speaking because most are reasonably updated and do not require any immediate, considerable remodeling. Of course, there is more to a solid home than an updated shower, fresh paint, and new countertops. Busy professionals will find an updated home appealing to buy, but a home buyer must perform a deeper dive into the renovations.
The developer will have gone through the property and taken care of any known issues with a good flip. For example, if the electrical, plumbing or other major systems were significantly aged, defective, or not safe, the seller would ensure these systems – in addition to cosmetic updates – were in good working order before listing the property for sale.

What are the Disadvantages of Buying a Flip?

Unfortunately, not every flip is fully updated and in good condition. Sometimes, to maximize profit and quickly resell the property, a developer will only make superficial updates and ignore more costly repairs and upgrades, e.g., heating systems, the roof, windows, insulation, structure/foundation, siding, and water penetration/grading issues. The developer also might cut corners and do shoddy work to save money and increase profit.
Some flips are indeed nearly fully renovated, and the homebuyer shouldn't need to do significant updates anytime soon. On the other hand, the worst flips are when the developer purposefully masks known issues to give the appearance the property was fully updated. Homebuyers later learn that they must spend significant time and money to resolve problems they assumed were completed before the investor put the property on the market.

How Can Homebuyers Protect Themselves When Buying a Flip?

With the help of their real estate buyer agent, a Massachusetts homebuyer must do their due diligence when considering purchasing a flipped property.
Homebuyers should check whether the developer is a licensed and insured contractor or used a contractor to complete the work. It's also essential to confirm whether the seller obtained the applicable building permits and whether the local building department closed all the permits. A homebuyer should request from the seller's listing agent an itemized list of work completed and compare the repairs and renovations done to the permits given by the city or town building department. A seller's unwillingness to share detailed information about repairs and updates should raise a red flag with a homebuyer. An investor proud of the effort made and quality of work will happily provide details.
With that said, a homebuyer should not assume that a building inspector's sign-off on permitted work means that a property will be issue-free post-closing. Home inspectors often find issues with work completed and approved by local electrical, plumbing, and building inspectors.
Speaking of home inspections, it's always critical to have a home inspected, but arguably more so when considering the purchase of a flip. An experienced and thorough home inspector might uncover problems not addressed, as well as poorly completed repairs and renovations.