You have decided to move to Massachusetts. Maybe you made the decision on your own or with a spouse or significant other. You have given it a lot of thought and have decided it is the right choice for you, but what do the kids think?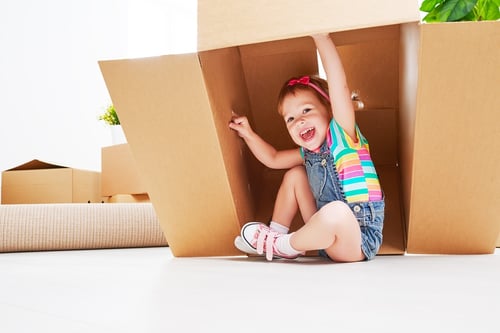 Moving can be emotional. You likely have a lot of memories, some happy and some sad. Your home may have been a place where you experienced many firsts.
Moving can be especially emotional for children. For little ones, it may be the only home they have ever known. For older kids, it may mean saying goodbye to longtime friends.
The following are eight tips to help children have a smoother transition to your next home and less anxiety (adults might even benefit too).
Learn about Massachusetts
Massachusetts has a rich history. Depending on the age of your child, you can spend hours or even days learning about historical sites around the Commonwealth, and the men and women who guided our nation in its early years. Planning to visit some of the places you learn about can be exciting and fun, even for a teenager who is too cool for his or her parents.
Visit the New Home and Neighborhood
If possible, take your children to visit their new house or condominium, or at take a walk around the neighborhood. Eliminating the fear of the unknown will make for less stress. If you can visit the new home, show them their bedrooms and talk about where you will place furniture and your plans for decorating, etc. If you can't make it for a visit before the closing, use websites, such as Google Maps and Google Earth, to check out the neighborhood and surrounding areas. The Google Maps "street view" feature in some neighborhoods is like walking down the street.
Make a list of places to go once you have moved
Get your kids excited about the move. The Boston area has a never-ending amount of fun things to do, whether you are into sports, the beach, history, or museums. Plan a trip to historic Fenway Park for a Red Sox game or a fun-filled day at one of the dozens of Bay State beaches. The number of historical sites to visit can keep you busy for years.
Talk about their new school
Nearly every city and town in Massachusetts has a website for its school system, with many having specific sections on each and every school in the district. Some websites will have the latest news and photos, especially high schools. Some schools might even allow for quick tours over the summer since many principals work throughout the year.
Make a memory book
For kids of any age, and even the adults, a memory book might make everyone feel a little bit better about the move. You can fill the book with photos of fun times around the home you're leaving and add some of your child's drawings and coloring. Some photos of a pet around the house and in your yard would be great too. You might be leaving behind a home you loved, but you will take with you a cherished book filled with fond memories.
Pack with your children
Children feel at ease when they are involved in the process. Packing is an easy way to get a child involved with the move. You can give your child a box of his or her own to fill items that are meaningful to your child or possessions that they will want to access right away upon arriving in at the new home.
Bring something with you from the old house
You can choose anything to bring with you, including a plant from your yard to replant at the new home, a piece of wallpaper, a rock from the yard, or an interesting doorknob or light switch plate. Just don't remove anything the buyer of your house is expecting to be there. If unsure, have your selling agent consult with the buyer's agent.
Family time capsule
Wouldn't it be fun to leave a family time capsule buried in your backyard telling a future homeowner about you, your children and your lives at that home? You can even leave an email address and a note so whoever finds the capsule can inform you or your children how they discovered the capsule. It could be fun to find out about how the house or neighborhood has changed over time.
[Author's Note: Some of the ideas above came from the Boston Moms Blog.]