So you've already made the decision to move to Massachusetts, but where in Massachusetts? There are a number of things to consider when relocating, and there is a place for every lifestyle. Massachusetts arguably is split into six main areas:
1. The City of Boston has many distinct neighborhoods, such as South Boston, East Boston, Beacon Hill, Hyde Park, and others. Living in downtown Boston can be fun and exciting, but also expensive.
2. The North Shore includes communities along the water and areas generally north up to the New Hampshire border, which, at its closest point, is only about 35 miles away from Boston. Many North Shore cities and towns are less than a 45-minute drive to the New Hampshire and Maine seacoasts.
3. The South Shore includes locations along the water and areas generally south to Cape Cod and the Rhode Island border. Many South Shore communities are a short distance to popular vacation destinations on Cape Cod. Providence, Rhode Island is about one hour from Boston and much closer from points south of the city.
4. Metro West includes cities and towns west of Boston, including communities in what might be referred to as Central Massachusetts. Several cities and towns in Worcester County are about a two-hour drive to Albany, New York.
5. Western MA generally refers to locations west of Worcester County, although Worcester County is in about the center of the state.
6. Cape Cod and the Islands include cities and towns located on the "arm" of Massachusetts, as well as the islands of Martha's Vineyard and Nantucket. Although these areas are well known as summer vacation hot spots, many residents live there the entire year.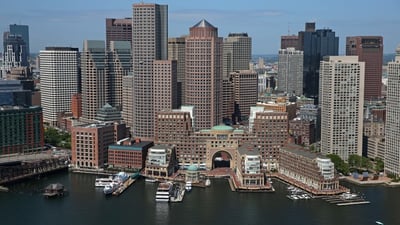 Some long-time Massachusetts residents might disagree with the above breakdown; however, many residents do refer to the various parts of the state as described above. Each section of the state offers its own unique living experience. There are towns spread throughout the North Shore, South Shore and Metro West where you can still find the perfect New England experience less than a 45-minute drive from downtown Boston.
The following are few things things to keep in mind when researching and considering which cities and towns might be the best fit for you.
Community Size:
Do you prefer to live in an area with quick access to shopping, entertainment and other amenities? Or would you rather live in a more secluded town not too far from the action? As you move away from the City of Boston, the surrounding areas offer a diversity of lifestyles and generally less expensive real estate options. Both the North Shore and South Shore have many towns offering a beach lifestyle, as well as comfortable suburban homes on larger lots. Even some rural communities are available within 30 to 40 miles from Boston.
Property Tax:
In Massachusetts property owners pay real estate taxes. The amount of the tax is based on the assessed value of the home itself, as well as the land it resides on. Individual cities and towns set the tax rate and issue tax bills to property owners on a quarterly basis. Property taxes help to fund many of the functions of a city and town, including public education, transportation, libraries, parks and recreation, and emergency services. Taxes can vary greatly from town to town. For example, in Chelmsford, Massachusetts a home assessed at $357,000 will pay property taxes in the amount of about $6,800 annually based on the 2016 tax year. On the other hand, a similarly assessed home in Braintree, Massachusetts will pay about $4,000 annually in property taxes based on the 2016 tax year. Massachusetts also has an income tax and sales tax.
Real Estate Value:
Typically, buying a home or condo is the most expensive purchase a person will make in their lifetime. For this reason, it should also be the most valuable. It is in your best interest to research current home prices, the length of time homes are for sale, the resale values of homes, local market trends and estimated long-term value. The home must meet your current needs, but don't lose sight of any irregular or uncommon features that might negatively affect a future sale.
Crime Rates / Statistics:
Unfortunately every community has some crime. To learn more about crime in the cities or towns you are interested in moving to, contact local police departments, read local media and look up the latest crime statistics available from a variety of online sources.
Greater Boston Area Culture and Entertainment:
Boston is a culturally rich, world-class city. It is home to excellent fine dining restaurants, concert halls, and museums. You can catch a Tony Award-winning musical at the Boston Opera House or a stand-up comedy show at various venues throughout the city. Boston is also home to several performing arts colleges, including Emerson University and Berklee College of Music. A person can get their cultural fix seven days a week in this vibrant city and the surrounding communities, such as Cambridge, Massachusetts. For those that love sports, the Red Sox, Bruins and Celtics are all based in the city. The New England Patriots and Major League Soccer's New England Revolution both play in Foxborough, Massachusetts, which is about a 35-minute drive from Boston.
Education and Massachusetts Schools:
While Massachusetts has one of the best education systems in the country, according to several studies, some school districts are more desired than others. In addition to public schools, the Bay State has a variety of religious and non-public schools that may meet your child's specific learning needs. For many families, sending a child or children to private schools is less expensive over the long term than the cost of real estate in some of the most sought after school districts. As you start your search, think about what you want a school to do for your child. In your search, you will probably come across the Massachusetts Comprehensive System (MCAS). MCAS is the Commonwealth's statewide standards-based assessment program and tests all public school students. It measures performance based on the Massachusetts Curriculum Framework learning standards and reports on the performance of individual students, schools, and districts. Even if you do not have children, it is still a good idea to look into school districts. Typically, well-performing school districts are in desirable locations that will make it easier for you to sell your home when you are ready to move. There are a number of websites that provide school information and rankings; however, one of the best is the Pioneer Institute's MassReportCards.org, which provides extensive data about Massachusetts public schools.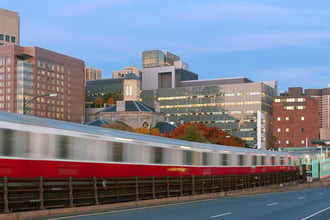 Commuting and Public Transportation:
There is no quick way to commute in the Greater Boston area during rush hour. If you work in or around Boston, research average commute times for both driving and public transportation. While driving may seem more convenient and comfortable, public transportation is typically faster and less expansive. The Greater Boston area has an extensive public transportation system that includes subway, "commuter" rail and buses. The commuter rail extends as much as 40 to 45 miles outside of Boston in several directions north, south and west (to the east is Boston Harbor).
Health Care Facilities:
In addition to all the things you need to do when you move to a new state, don't forget to find a new general physician, dentist, and any specialists you may have had in your previous state. Fortunately, Boston and the surrounding area is home to many of the top hospitals in the world, including Massachusetts General Hospital, Brigham & Women's Hospital, Tufts Medical Center, Boston Children's Hospital, Dana-Farber Cancer Center, the Floating Hospital for Children at Tufts Medical Center and Beth Israel Deaconess Medical Center. If you or a family member requires specific, regular medical attention, you likely will find the medical care you or your family member needs close to home. Besides many well-regarded local hospitals outside of Boston, it is common for physicians at the major Boston hospitals to see patients at satellite offices in the suburbs.
Distance from Logan International Airport:
Logan International Airport is located in the East Boston neighborhood of Boston. It is the largest airport in New England, consisting of four terminals and 102 gates, and it is one of the busiest in the country. It can be accessed by car, subway (Silver and Blue lines), or ferry. If you need to regularly access the airport for business travel, living just north of Boston is a bit more convenient to the airport than south of Boston and certainly more convenient than living west of the city.