Whether you are new to the city or planning a move to Boston, you need to know how to get around. Some locals in the area either bike or walk to work, but other options include car-sharing, ride-sharing, and using the public transit system.
According to recent statistics, almost 17 percent of Bostonians travel by foot or bicycle in conjunction with Boston's public transportation system, known as the Massachusetts Bay Transportation Authority (MBTA).
Homebuyers moving to Boston are going to want to learn about the MBTA. In case you have not heard, Boston has some of the worst traffic in the nation.
What is the MBTA?
The MBTA provides the Boston area's public transportation and will be your key to getting to work or anywhere else that you need to in Boston, as well as many of the surrounding cities and towns. The MBTA is made up of different modes of transportation, including trains, boats, and buses, all of which work congruently to get you from point to point throughout the area.
Four parts make up the MBTA, including the commuter rail, subway, bus, and the boat/ferry system. In addition to the main components of the MBTA, there is "The RIDE" option for individuals with disabilities.
The various modes of transportation run daily, generally between the hours of 5 am to 1 am; however, some lines run a bit later or end earlier. The MBTA also has a trip planner app that can assist you in choosing the best route to reach your destinations. Also, if you're ever concerned about delays or schedule changes, you can sign up to receive notifications affecting your travel route.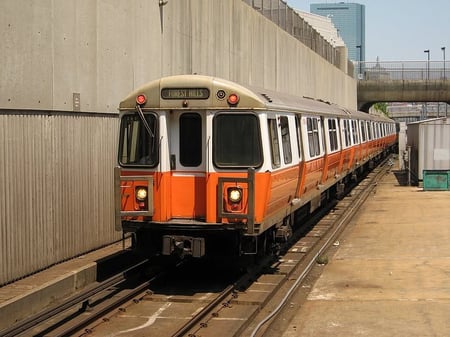 Each part of the MBTA system has separate fare options for transportation. The bus, commuter rail, and ferry fares vary based on routes, and monthly passes, which allow for unlimited usage, are available to purchase.
The Subway System
The subway system, referred to locally as the "T," is made up of four different color-coded lines, including the Blue Line, Orange Line, Green Line, and Red Line. These are going to be your main links in and around Boston. Say you are in the City of Melrose, hop on the Orange Line starting at nearby Oak Grove T station for a trip into the heart of downtown Boston. From the Town of Braintree, begin at the Red Line's Braintree Station and make to downtown Boston in 10 stops.
Commuters can purchase a monthly pass for $90 (as of November 2019) that allows unlimited travel on all subway lines, as well as local bus routes. The pass provides for limited commuter rail and ferry service too. The monthly pass is called a CharlieCard. CharlieCards are reusable cards that can be loaded with cash value or passes to pay bus and subway fares. CharlieCards are available for purchase at select MBTA subway stations.
The Commuter Rail
The commuter rail is a part of the subway system, referred to as the Purple Line. It provides connections to and from the outer lying areas of Greater Boston. The commuter rail offers transportation to and from Rockport, MA, Worcester, MA, Haverhill, MA, Providence, Rhode Island, and many other locations.
As of November 2019, monthly commuter rail passes ranged from $90 to $426. Depending on the pass and your commuting needs, these prices may include unlimited travel on the commuter rail, subway, buses, and ferries.
The Bus System
The bus system has a local, inner-express, outer-express, as well as a "Silver Line," schedule. The various routes are designed specifically for getting you around the City of Boston. So, whether it's a trip to work, a meeting across town, or anything in-between, the MBTA buses are plentiful.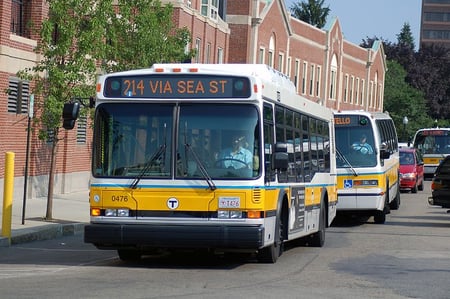 Of course, depending on the route, buses travel the same congested streets as cars. Some of the more frequently used bus routes have stops at many subway and commuter rail train stations.
Commuters who only need local Boston bus lines, and limited Silver Line usage, may purchase a monthly pass for $55, as of November 2019. More expansive bus passes (routes into the suburbs) are available for $136 and $160 per month and include subway travel.
The Boat System
The commuter boat system gets commuters around Boston Harbor. The service is frequently used by both local passengers and visitors who are traveling from Boston's Charlestown neighborhood or the South Shore into the City of Boston (or into "town" as the locals might say). The Charlestown Ferry is a short distance across Boston Harbor to the downtown area. The Hingham/Hall Ferry travels a greater distance from south of Boston, with stops at Logan International Airport and downtown Boston.
The ferry not only helps you avoid traffic, but it also offers a scenic view of the Boston Harbor Islands, Boston Harbor, and the Boston skyline. The MBTA ferries have both indoor and outdoor seating.
The Charlestown Ferry monthly pass will set you back $80. A monthly pass for the Hingham/Hull Ferry costs $329 but includes unlimited subway and bus travel, as well as limited commuter rail use.
The RIDE
The RIDE is the MBTA's door-to-door, shared-ride paratransit service. The MBTA operates The RIDE in compliance with the Americans with Disabilities Act (ADA). If you have a disability that prevents you from using the MBTA bus, subway, or trolley all or some of the time, The RIDE may be able to assist with your public transportation needs.
The RIDE is available in 58 cities and towns in the Greater Boston area, with similar operating hours as the MBTA, generally, from 5 am to 1 am daily. To access The RIDE, you have to apply for approval by The RIDE Eligibility Center.
Know the MBTA Schedule
You will want to have a firm grasp of the MBTA schedule so that you know when your particular commuter rail train is going to run. One common complaint about the commuter rail system is that trains run much less frequently than the primary subway system. Depending on where you are going, if you're as little as five minutes late and miss your train, your next ride won't be available for almost an hour. State transportation officials claim more frequent commuter rail runs are part of the MBTA's plans moving forward.
The subway system runs much more often, about every 10 minutes or so, during commuting hours. If you are hopping on the subway system, it is pretty easy as those trains run continuously throughout the day. The bus and boat systems also run less frequently. The MBTA's website has schedule information for the subway, commuter rail, bus, and boat lines.
Fit In With the Locals
Even though you may be a newcomer to the Boston area, you can fit right in with the locals by following these T tips.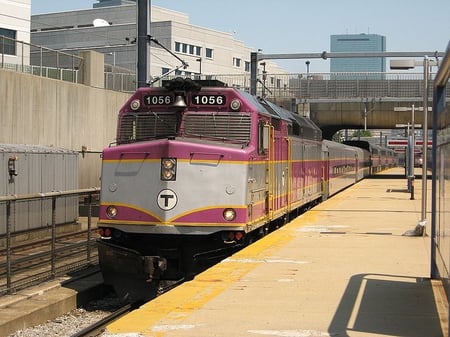 Familiarize yourself with the various layouts of the stations. Some have escalators for convenience, and most all have elevators if you have a need or preference for avoiding the stairs.
Also, practice public transit etiquette. There is one telltale sign that differentiates the visitors from the locals. Practice patience and allow people to leave transit vehicles before getting on. For some, this would seem courteous and sensible. Still, many passengers who are not familiar with the process or who are anxious about being in a new place or missing their train or bus will attempt to board immediately, thus blocking the way for exiting passengers.
Once you're aboard, the seats located closest to the doors are intended for seniors and individuals with disabilities. Granted, if seats located near entrances are vacant, you are welcome to use these seats until needed by a senior or individual with a disability.
Finally, when purchasing your monthly pass, pay attention to your exact route so that you only buy the pass that you need. You'll want to make sure your entire commute is covered, but you don't want to pay for services you aren't likely to use much.
Biking in Boston
Of course, riding a bike around the Boston area is an option, but the MBTA does limit where and when you can travel with your bicycle. Bikes are not allowed on the T during rush hours, and they're never allowed on the Green Line or Mattapan Trolley. The MBTA allows folding bikes on all MBTA services at all times if you completely fold the bike. Motorized bicycles and vehicles are not allowed on the T at any time.
Nearly all MBTA stations have bike racks, and some stations have covered bike racks and "Pedal & Park" facilities. Some high-traffic MBTA stations have Pedal and Park facilities, which are secure, enclosed parking areas for 50-150 bikes. Pedal and Park locations have surveillance cameras and controlled door access, and they're free to use for CharlieCard holders.
What About Cars?
As mentioned above, Boston traffic is severe without construction, an accident, or one of its epic Northeaster snowstorms. However, many people do opt for cars. In fact, according to a Boston Globe report in November 2019, the Greater Boston area has seen an increase of 300,000 vehicles between 2014 and 2019. Not all those additional automobiles travel into Boston daily, but Suffolk County, which includes Boston, Revere, MA, Chelsea, MA, and Winthrop, MA, added about 74,000 jobs during the same period.
Another factor for those relocating to Massachusetts to consider is the price of parking in Boston. Unless your employer provides free parking, and few do, the cost to park each month in downtown Boston might equal the monthly rent you paid in the midwestern or southern town from which you're moving.
Depending on where you buy a home in Massachusetts, you might have to drive to public transportation.
The MBTA owns and operates 100 parking lots and garages across its transportation network, with more than 44,000 spaces available. The cost to park at these lots and garages is significantly less expensive than private lots in downtown Boston.
Is the MBTA Right for You?
The public transportation system in the Boston area is far from perfect. It is quickly catching up to politicians, sports teams, and the weather as one of Bostonians' favorite topics to complain about.
Boston's traffic and other transportation options might play a significant role in where you choose to buy a home in Massachusetts. Communities with (or nearby) subway stations or other forms of public transportation have seen home prices increase significantly between 2013 and 2019.