Homebuyers considering moving to Massachusetts with children under 18 years old living at home have unique needs when buying a home, according to a National Association of Realtors (NAR) report.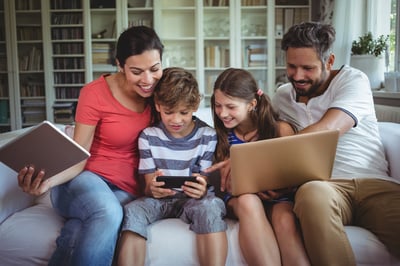 The most significant need for homeowners nationwide who may be relocating and moving to Massachusetts with their kids is the importance of the neighborhood in making a housing choice. Fifty-three percent of homebuyers who have children consider a community based on the quality of the school district. In comparison, 50 percent made their decision on the neighborhood's proximity and convenience to schools. The research comes from the NAR's "Moving with Kids" report.
Diversity: A Neighborhood For Everyone
The Boston area has some of the most diverse neighborhoods in the country. For example, in one survey, Boston's Dorchester neighborhood has been ranked as the 8th most diverse zip code in the United States. The communities just outside of Boston also vary, from quiet small towns to vibrant urban environments.
Depending on where you purchase, prices can vary widely. For example, a modest-sized home within 20 minutes of downtown Boston can cost $700,000 or more. On the other hand, a similar single-family home 45 minutes outside of the city, with a sound school system, might sell for between $450,000 and $600,000.
Beyond Schools: Factors Massachusetts Buyers Face
While schools were the most crucial consideration in the process for 53 percent of homebuyers, several other factors influenced their ultimate decision when it came to choosing the right property.
For homebuyers with children, the quality and proximity of schools to their neighborhood was their top priority; however, other factors influenced their decision. For one, roughly half of all buyers said finding the right property was the most challenging step in the process, with or without children.
For homebuyers with children, 86 percent purchased their home with the help of a real estate agent, and 41 percent of those buyers found their agent through a referral from a friend, family member, or neighbor. Fourteen percent were previous clients who had worked with their agent in the past.
The report did not specify how many homebuyers with children chose to work with an exclusive buyer agent, a buyer agent who only works with buyers and works at a real estate company that never takes home listings. Exclusive buyer agents avoid conflicts of interest often found in the real estate industry.
The majority of buyers, with or without children, purchased detached single-family homes, according to the 2019 report. Homebuyers with children bought larger homes averaging 2,110 square feet with four bedrooms and two bathrooms.
For 26 percent of those buyers, child care expenses delayed the home-buying process. Homebuyers who had child care expenses often made compromises when buying their homes, including condition and size, followed by lot size, price, and the home's style.
The Benefits of Moving to Massachusetts with Children
Massachusetts excels in education, with over 5,400 public and private PK-12 schools throughout the state. It has one of the best – if not the best – public education systems in the country, according to some national rankings. Massachusetts is also number one in the country for reading and math scores.
Massachusetts public schools are considered some of the safest in the country; however, like any other state, the quality and safety of public schools do vary from community to community. To improve outcomes and close achievement gaps, Massachusetts passed the Student Opportunity Act in 2019. The SOA increases educational funding over several years, beginning in the 2020-2021 school year.
Along with excellent public schools, Greater Boston is home to some of the top universities in the world. With over 50 institutes of higher learning and a student population of 150,000, the Greater Boston area features more colleges and universities than any other city in the United States. The City of Boston has more than 25 colleges, universities, and community colleges alone.
Buying a Home in Massachusetts
If you're moving to Massachusetts with children and you've purchased a home in another state, do not assume that the process will be the same or similar. For example, many states use title companies; however, only licensed attorneys may certify title and perform closings in the Commonwealth of Massachusetts.
There are other unique aspects to buying real estate in Massachusetts. Homebuyers are wise to interview experienced buyer agents before purchasing a home in the Bay State, a Massachusetts nickname. A loyal buyer agent working just for homebuyers can help you understand the process, show you all of your options, and furnish you with the information you need to make an informed decision.