Average mortgage interest rates in the United States reached another all-time low for the week ending July 2, 2020, according to Freddie Mac's weekly Primary Mortgage Market Survey.
Freddie Mac's survey dates back to 1971.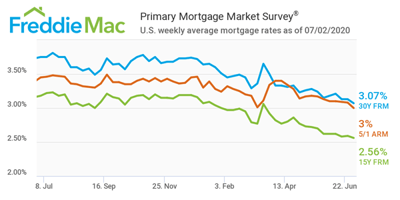 The 30-year, fixed-rate mortgage loan interest rate averaged 3.07 percent, with an average 0.8 point, compared to 3.13 percent the week before. The 30-year note averaged 3.75 percent the same week last year.
"Mortgage rates continue to slowly drift downward with a distinct possibility that the average 30-year fixed-rate mortgage could dip below 3 percent later this year," Sam Khater, Freddie Mac's Chief Economist, said. "On the economic front, incoming data suggest the rebound in economic activity has paused in the last couple of weeks, with modest declines in consumer spending and a pullback in purchase activity."
The 15-year, fixed-rate mortgage, a popular choice for homeowners who want to refinance, averaged 2.56 percent, with an average 0.8 point. The 15-year loan averaged 2.59 percent the previous week and 3.18 percent during the same period last year.
The five-year, adjustable-rate mortgage (ARM) loan averaged 3.00 percent, with an average 0.3 point, down slightly from the prior week when it averaged 3.08 percent. The five-year ARM averaged 3.45 percent last year.
Despite the falling interest rates, mortgage applications to purchase a home decreased 2 percent for the week ending June 26, 2020, compared with the previous week; however, purchase applications rose 15 percent compared to the same week in 2019, according to the Mortgage Bankers Association.
Massachusetts home sales plummeted in May 2020 due to a combination of COVID-19 shutdowns, slowing economic activity, and historically low real estate inventory. Single-family real estate inventory in Massachusetts has fallen for more than eight years straight.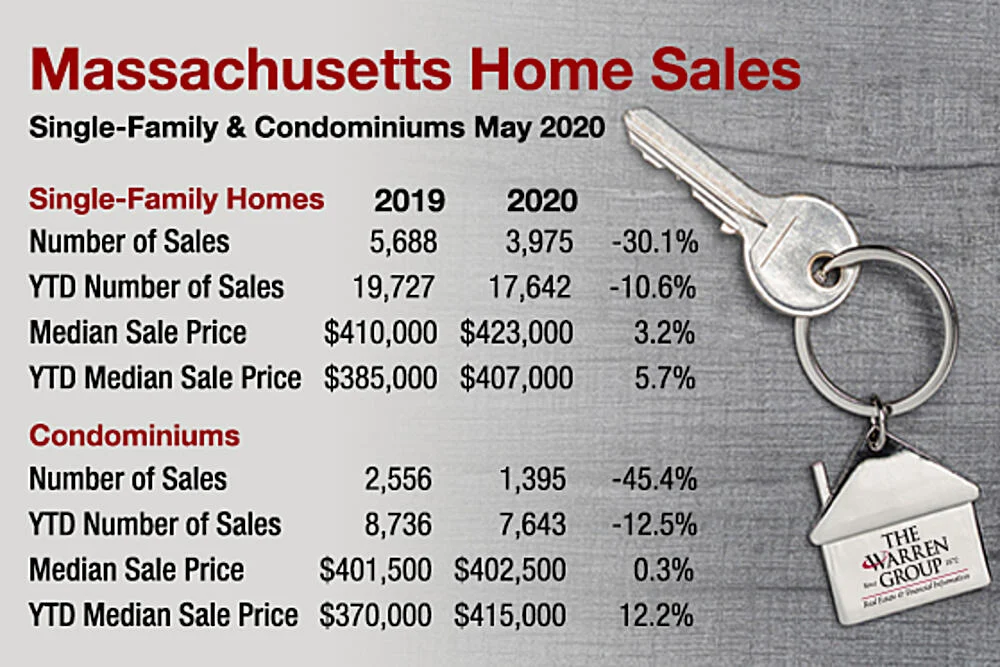 There were 3,975 single-family homes sold in May in Massachusetts, a 30.1 percent decrease from May 2019 when there were 5,688 closed sales, The Warren Group reported June 24, 2020. May had the fewest number of single-family home sales in any May since May 2011 when there were 3,413 transactions.
The lack of supply has led to the median single-family sale price increasing 3.2 percent on a year-over-year basis to $423,000, up from $410,000 in May 2019. Through May, the median price of a single-family home in Massachusetts increased by 5.7 percent compared to the first five months of 2019.
There were 1,395 condominium sales in May, compared to 2,556 sales in May 2019, a 45.4 percent decrease. The median condo price edged up 0.3 percent on a year-over-year basis to $402,500. Condo prices have jumped 12.2 percent through May compared to the same period last year.