U.S. mortgage interest rates rose to the highest level in nearly nine months for the week ending March 18, 2021, according to Freddie Mac's weekly Primary Mortgage Market Survey.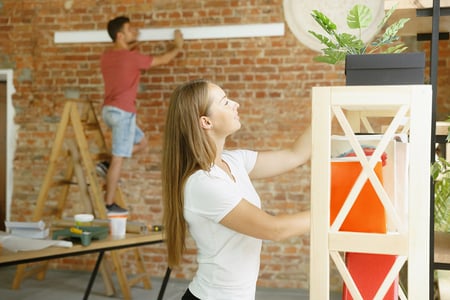 The 30-year, fixed-rate mortgage loan in the U.S. averaged 3.09 percent, with an average of 0.7 points, up from 3.05 percent the week before. During the same week in 2020, the 30-year loan averaged 3.65 percent.
Mortgage interest rates last averaged more than 3.09 percent on June 25, 2020, when rates stood at 3.13 percent. The 30-year, fixed-rate mortgage loan averaged 2.65 percent for the week ending January 7, 2021. Rates were last above 4 percent (4.06 percent) for the week ending May 23, 2019.
"As expected, mortgage rates continued to inch up but are still hovering around three percent, keeping interested buyers in the market." Sam Khater, Freddie Mac's chief economist, said. "[On the other hand,] residential construction has declined for two consecutive months and given the very low inventory environment, competition among potential homebuyers is a challenging reality, especially for first-time homebuyers." There isn't and hasn't been much new construction in Massachusetts – except for luxury Boston condominiums – since the financial crisis in 2008.
[Related: 15 Mortgage Loan Terms First-time Homebuyers Should Know]
The 15-year, fixed-rate mortgage loan averaged 2.40 percent, with an average 0.7 point, increasing from 2.38 the previous week. A year ago, the 15-year note averaged 3.06 percent.
The five-year, adjustable-rate mortgage (ARM) averaged 2.79 percent, with an average of 0.3 points, compared to 2.77 percent the prior week. The five-year ARM averaged 3.11 percent during the same week in 2020.
Massachusetts February 2021 Home Price Jump
The median price of a single-family home in Massachusetts spiked 17.1 percent to $462,500 in February 2021 compared to $395,000 in February 2020, according to the Massachusetts Association of Realtors.
Condominium prices also rose statewide, increasing 5.1 percent to $425,750 in February. The median condo price in February 2020 was $405,000.
Massachusetts homebuyers purchased 2,748 homes in February, up 8.1 percent from 2,541 closings in February 2020. Condominium sales rose 6 percent to 1,276 in February.
The number of single-family homes for sale dropped 68.4 percent to 3,167, while condos on the market fell 33.6 percent to 2,545 available units.
Statewide there was less than one month of single-family home inventory (0.6) in February, dropping 71.4 percent from February 2020. About six months of inventory is considered a balanced market between home buyers and home sellers. Condominium inventory decreased by 35 percent to 1.3 months.