Easton, Massachusetts, a suburb of Boston, was named CNN's Money Magazine 100 Best Places to Live in America in 2008, 2009, and 2011 and was on SafeWise's 2014 list of the Safest Cities in Massachusetts. Easton had an estimated 2010 population of 23,357 people, and it borders West Bridgewater, Brockton, Mansfield, Norton, Raynham, Sharon, Stoughton, and Taunton. Easton is approximately 30 miles from both Boston and Providence, Rhode Island.
History and Government
Easton was originally settled around 1695 and incorporated in 1725. During the Revolutionary War, General George Washington stayed at the Benjamin Williams Tavern on Bay Road, which is now the second oldest existing house in Easton.
The Ames family and the Ames Shovel Company play a prominent role in the shaping of Easton. Shovels produced by the Ames Shovel Company were the main shovels used in the construction of the Union Pacific Railroad and were the U.S. Army's standard-issue shovel for every conflict between the American Civil War and the Korean War. Prominent members of the Ames family include Oakes Ames (U.S. Congressman from 1863-1873); Oliver Ames (Massachusetts Governor from 1887-1890); and the married Oakes Ames (botanist specializing in Orchids) and Blanche Ames Ames (artist/women's rights activist) who designed the Ames Mansion at Borderlands State Park.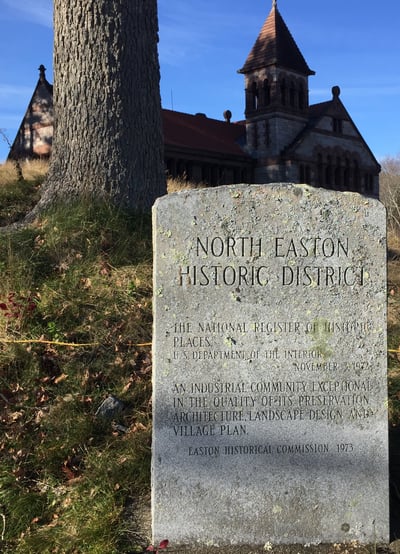 The Ames family also hired the world-renowned Romanesque Revival architect H.H. Richardson to design several buildings in North Easton Village. This area of Easton is recognized as a U.S National Historic Landmark District called the "H.H. Richardson Historic District of North Easton". The buildings he designed have all been preserved and include, the Ames Free Library (town library); the Oakes Ames Memorial Hall; the Old Colony Railroad Station (current location of the Easton Historical Society); the Ames Gate Lodge; and the F.L. Ames Gardener's Cottage.
Easton is governed by an Open Town Meeting and an elected five-member Board of Selectmen, which hires a full-time Town Administrator for the daily operation of the government.
Commuting and Transportation
Easton sits along State Routes 106, 123, and 138. Commuter Rail access is available in the neighboring towns of Brockton (Campello and Brockton Stations), Mansfield, and Stoughton, all of which take between 25-45 minutes to reach Boston. In 2011, a proposal was made for two commuter rail stations in Easton, but the state has not finalized any plans as of this date.
Easton Schools
The Easton Public School system consists of three elementary schools serving pre-kindergarten to second-grade students (Moreau Hall, Parkview School, and Center School). Students attend Richardson-Olmsted between third to fifth grade, the Easton Middle School between grades six through eighth, and high school students attend the Oliver Ames High School. The town is also home to the Southeastern Regional Vocational Technical High School. The Easton Country Day School offers nursey, pre-school and kindergarten for children 2.9 years to seven years old.
In 2008, the state and Town of Easton renovated Oliver Ames High School and expanded it to include more modern facilities and a new 1200-seat auditorium. That same year Oliver Ames students MCAS scores were in the top ten percent of the state in English/Language Arts and top twenty-five percent in math. The school has also received recognition for their music programs. For example, the Oliver Ames Tiger Marching Band won the 2008 Division 2 New England Championships for USSBA and represented Massachusetts in Washington D.C.'s 2012 Memorial Day parade.
Easton is also home to Stonehill College, a private Roman Catholic Liberal Arts college that sits on a 375-acre campus, with ponds and walking trails. The school remains active during the summer, hosting athletic and educational camps for children.
Easton Recreation and Leisure Activities
With more than 4,000 acres of conservation land, Easton is an excellent place for those who love the outdoors.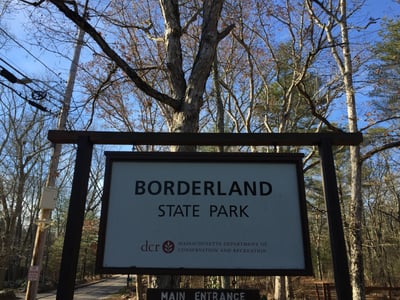 Easton is home to Borderland State Park, a 1,782-acre state park that includes more than 20 miles of hiking trails, a disc golf course, and it houses the 20-room Ames Mansion. Several commercials and movies, including Shutter Island, Mermaids, the latest Ghostbusters, have used the mansion and park.
Besides the trails at Borderland, residents can hike at Wheaton Farm and the Natural Resources Trust of Easton (NRT)'s Sheep Pasture. The NRT's Sheep Pasture also includes farm animals, educational programs, and festivals throughout the year, such as the annual Harvest and Craft Fair.
The town is also home to the Children's Museum of Easton, which is located in the old firehouse and contains three floors of interactive learning geared towards children between the ages of one and eight years old.
Dining and Shopping in Easton
The Town of Easton recenly completed a major revitalization project of its historic downtown in North Easton Village, which included cosmetic improvements, widened streets, and an expansion to the municipal parking lot on Sullivan Street. This revitalization project makes it easier for residents and visitors to park and walk around the gorgeous H.H. Richardson buildings, the Children's Museum, and eat at a variety of restaurants such as the very popular Farmer's Daughter and the Shovel Town Brewery.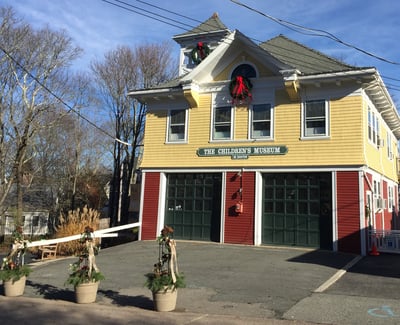 Besides downtown, there are multiple shopping plazas and department stores throughout the town, such as Highlands Plaza which currently contains a Big Y, Target, and T.J. Maxx among other shops. The town is also very close to the Westgate Mall in Brockton, Patriot's Place in Foxboro, Mansfield Crossing in Mansfield, and the Wrentham Outlets in Wrentham.
Easton Real Estate Market
Easton real estate has a wide variety of options for homebuyers, including colonials, Cape-style houses, ranch-style homes and raised-ranch style homes, as well as condominium complexes. During the first half of 2018, there were 71 single-family homes sold in Easton at a median price of $473,500, according to MLS Property Information Network, Inc., the local multiple listing service. In 2017, there were 213 homes sold, up from 207 houses closed in 2016 and 202 sales in 2015.
The highest priced home sold during the first six months of 2018 was $990,000 while the least expensive sale was $180,000. The majority of homes sold for between $350,000 and $600,000.
The median condominium price in Easton was $235,000 through June of 2018 on 47 units closed. The most expensive condo sale was $545,000, and the least expensive sale was $140,000. The vast majority of condominiums sold for between $200,000 and $300,000.
The median condo price in 2016 was $207,000 and $219,450 in 2017. There were 106 units sold in 2017.
Easton provides its residents with great nature trails and the beautifully preserved architecture, all while being in close proximity to excellent amenities.