Sharon, Massachusetts, named in 2013 by Money Magazine as the best place to live in America, is a suburban community located southwest of Boston, with a population of approximately 17,000 people.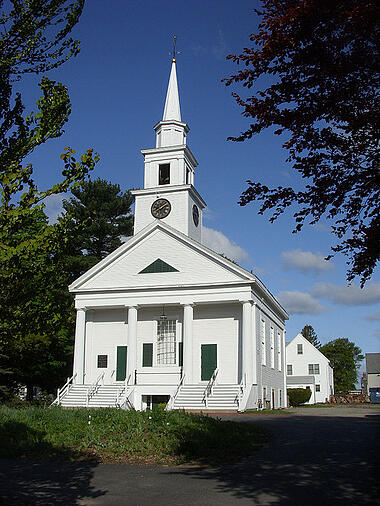 Situated along Interstate 95, Providence, Rhode Island is about 26 miles to the south and Boston is about 17 miles to the north of Sharon. The MBTA commuter rail's Providence/Stoughton line stops in Sharon, providing easy access to Boston's South Station by train. There are not any subway or bus lines in the community. In addition, Massachusetts Route 27 runs through the town.
Sharon, MA, located in Norfolk County, is home to a variety of natural resources and recreational opportunities that its residents enjoy, namely Lake Massapoag, Moose Hill and Borderland State park. Lake Massapoag is a 353-acre, spring fed lake, home to a beach and boating in the summer and ice skating in the winter. Every August athletes come to Lake Massapoag for the Sharon Triathlon. Moose Hill is the oldest and largest Mass Audubon sanctuary. Moose Hill offers many trails for hiking, as well as a variety of programming activities for adults, children and families. Borderland State Park is a state park that is overseen by the Massachusetts Department of Conservation and Recreation, also offering many hiking and outdoor recreation opportunities.
Sharon is known for its highly-ranked public schools. The Sharon schools are made up of three elementary schools, one middle school and one high school. The Sharon schools have routinely been ranked in the top ten schools by both Boston Magazine and US News and World Report. The most recent ranking placed Sharon High School as tenth overall in the state. According to the town's Web site, Sharon High School sends 96 percent of its graduating students to institutions of higher education.
Residents also have the option to send children to the private Striar Hebrew Academy, a pre-K to sixth grade Jewish day school. The Blessed Sacrament School, a pre-K to 8th grade Roman Catholic school, is located just a few miles outside of Sharon on East Street in Walpole, Massachusetts. St. John the Evangelist School, also a Catholic pre-K through 8th grade school, is located on Washington Street in nearby Canton, Massachusetts.
In 2011, Sharon made the list of Money Magazine's best places to live in the country, coming in at number 11. In 2013, Sharon moved up to take top honors.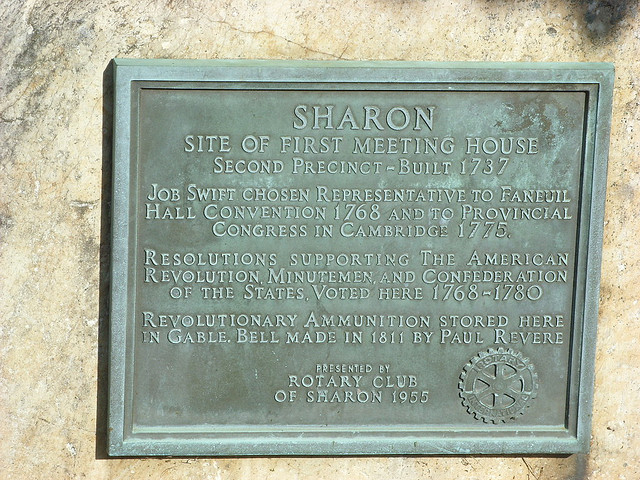 With a small and quiet town center, Sharon has retained its rural character over the years, with little commercial development. Locally owned businesses such as Ward's Berry Farm and Crescent Ridge Dairy add to the character of this small New England town.
The Sharon Public Library offers patrons 80,000 books, as well as magazines, music CDs, audio books, videotapes, e-mail and access to the Internet. The Community Center, a former resort hotel that the town acquired in 1967, has activities for resident of all ages, such as dance, karate, yoga, language lessons, chorus, chess, sports club, theater and community television. The Sharon Recreation Department, in conjunction with citizens' groups, sponsors a tots playground, baseball, basketball, tennis and soccer, as well as a variety of community events.
Sharon is a very short drive from Gillette Stadium, home to the New England Patriots and New England Revolution, and Patriot Place, a premier shopping and dining destination. It also is close to shopping at the Walpole Mall and restaurants and shops at Legacy Place in Dedham, MA. A relatively quick train ride offers residents access to all that Boston has to offer.
Real estate in Sharon is popular for all types of home buyers due to its convenient location, well-rated public schools and recreational opportunities. Single-family homes make up the majority of Sharon real estate, with a much smaller number of condominiums and multi-family homes available.
For the first half of 2014, there were 69 single-family homes sold in Sharon, with an average sales price of $549,396, a sales price that was actually slightly higher than the average list price of $549,022, according to MLS Property Information Network. The lowest priced home during that period sold for $262,500, with the highest priced home selling for $1,800,000. Contrast that with the condominium market, where there were only seven units sold for the first half of 2014, with an average sales price of $256,000. There was only one multi-family house sold during the first six months of 2014.
The real estate market in Sharon has been steadily improving over the past few years. For all of 2011, there were 165 single family homes sold in Sharon, with an average of 109 days on the market and an average sales price of $452,329. In 2012, sales increased to 209 single family homes sold. The average sales price was $449,166, with an average of 112 days on the market. The Sharon real estate market really picked up in 2013 when there were 247 single-family homes sold, with an average of only 76 days on the market. The average sales price in 2013 was $521,750.
Photos by Doug Kerr via a Creative Commons license.