Greater Boston home buyers may start to rejoice in the sweet sounds of the commuter rail or subway.
According to a study released March 20, 2013 by the American Public Transportation Association (APTA) and the National Association of Realtors (NAR), Boston real estate values during the last recession performed 129 percent better on average if they were located near public transportation with high-frequency service.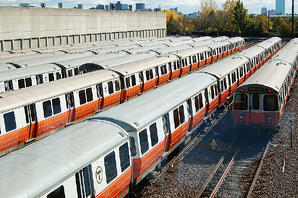 The study looked at five regions, which illustrate the types of high-frequency public transit systems throughout the U.S. High-frequency public transportation includes subway (heavy rail), light rail and bus rapid transit. The sample projects that nationwide real estate vaules perform 42 percent better on average when located near high-frequency public transportation than those that are located further away from public transit.
The study investigated how well residential properties located in a half-mile proximity to high-frequency public transportation or in the "public transit shed" performed in holding their value during the recession compared to other properties in a given region.
While residential property values declined substantially between 2006 to 2011, properties close to public transit showed significantly stronger resiliency. The study revealed the following: In Boston, residential property in the rapid transit area outperformed other properties in the region by an incredible 129 percent. In the Chicago public transit area home values performed 30 percent higher than the region; in San Francisco, 37 percent higher; Minneapolis-St Paul, 48 percent; and in Phoenix 37 percent higher.
"Higher home values reflect greater market demand for areas near public transportation," said NAR Chief Economist Lawrence Yun. "Transportation plays an important role in real estate and housing decisions, and the data suggests that residential real-estate near public transit will remain attractive to buyers going forward. A sound transportation system not only benefits individual property owners, but also creates the foundation for a community's long-term economic well being."
The study also showed that living near public transportation provides access to up to five times more jobs per square mile as compared to other areas in a given region. In addition, living near public transportation reduces transportation costs – up to $350 per month – and typically inludes more walkable areas. For many home buyers, buying a home also involves choosing a lifestyle. A growing number of Massachusetts home buyers want their lifestyle to include short commuting time, less transportation costs and the ability to walk to stores and restaurants.