While the Boston area real estate market cooled off in the late spring and summer of 2022 compared to a year ago, multiple offers on desirable homes are still the norm. Prospective home buyers continue to look for ways to make their offers attractive to sellers.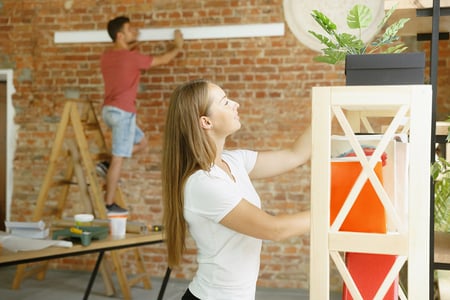 An appraisal gap clause could help a home buyer's offer stand out in a competitive situation, persuading a seller to accept a contract to purchase over similar ones.
Homebuyers Struggle With Scarce Inventory
Listing agents will tell you traffic at open houses, as well as property showings overall, have been down in recent months. Still, the lack of inventory continues to result in many homes receiving more than one offer.
The number of Massachusetts single-family homes for sale in May dropped 15 percent compared to May 2021, resulting in just one month of inventory statewide. About six months of inventory is considered a balanced market between home buyers and sellers. Condominium inventory plunged 32 percent in May 2022 year over year. There were only 1.1 months of condo units available.
What is an Appraisal Gap Clause?
An appraisal gap clause is when a home buyer commits to paying more than a property's appraised value if the appraised value is lower than the offer or agreed-on price of the home. Essentially, a homebuyer agrees to cover the difference in additional down payment between what they were willing to pay for the house and the amount an appraiser sets the home's appraised value.
For example, a seller might list a house for $475,000, and a homebuyer may offer $520,000, which is $45,000 more than the listing price. While that may seem exciting for a seller, if the appraisal comes in less than $520,000, the home buyer could terminate the agreement and walk away.
Related: What Home Buyers Should Know About Real Estate Appraisals
In most cases, an appraisal gap clause assures the seller that a buyer will proceed with the transaction if the appraisal is lower than the agreed-upon sales price. Additionally, a homebuyer could write the clause to limit the amount of money a homebuyer will cover in the case of a low appraisal or remove any limit.
Why Does an Appraisal Gap Matter?
The difference between the appraised price and the sale price matters because a lender won't issue a loan for more than the property is worth or for more than a certain percentage of the home's value, also known as the loan-to-value ratio.
Mortgage lenders require appraisals to ensure the home's market value is high enough to cover the mortgage loan. Mortgages are secured debt with the home as collateral, and if the house isn't worth as much as you paid for it, then the lender might not be able to sell it for enough to recover costs if the lender had to foreclose.
For example, a homebuyer may agree to buy a home for $400,000 with a 10 percent down payment ($40,000), and the mortgage lender has approved a mortgage with a 90 percent loan-to-value ratio of $360,000. If the home's appraised value comes in at $380,000, then there is a $20,000 shortfall the borrower has to make up because the lender will only loan the prospective homebuyer 90 percent of $380,000.
Is an Appraisal Gap Clause Risky?
A home buyer should know that if you agree to make up an appraisal gap in your offer to the seller, you better have the cash to make an additional down payment at closing. If not, you may jeopardize your deposits.
Suppose you have otherwise qualified for a mortgage loan. In that case, you will not be able to use the mortgage contingency clause to terminate the agreement unless the property's appraised value is less than the listing price or some other price agreed upon in the clause.
A prospective home buyer should only agree to make up an amount they readily have the cash to cover. In addition, they should feel confident in the home's fair market value from the comparative market analysis their exclusive buyer agent provided them.