A plot plan is a detailed drawing of a piece of real estate that shows the property's boundaries, any structures on the property, and the property's location in relation to the surrounding area.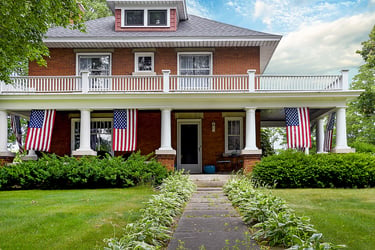 Buyers and sellers often use a plot plan in real estate to help them understand the layout of a property and make informed decisions about the land's value and potential use. Architects, builders, and contractors use plot plans to plan and execute construction projects on a piece of land, sometimes referred to as a "lot."
Licensed land surveyors typically create plot plans using tools and techniques to measure and map the property's physical features. The resulting plot plan is then drawn to scale, with all structures and features accurately depicted in relation to one another.
Related: Make Better Real Estate Decisions. Subscribe to Real Boston
For buyers and sellers of real estate, a plot plan may help identify potential issues or opportunities that might not be immediately obvious from a casual walk around the land or visual inspection. For example, a plot plan may show the location of any easements or rights-of-way that could affect the use of the property. In addition, it might indicate local zoning building setback requirements.
A plot plan is a valuable resource for understanding the basic layout of a property.
What's the difference between a mortgage plot plan and a land survey?
A mortgage plot plan is a simplified version of a land survey, and lenders typically require a plot plan as part of the mortgage approval process. Lenders use the mortgage plot plan to confirm the property's dimensions and boundaries to ensure that the property meets specific standards and requirements and doesn't encroach on neighboring lots and vice versa.
A mortgage plot plan typically includes a drawing of the property and its structures, as well as information about the location and dimensions of the property, any structures on the property, and the property's location in relation to the surrounding area.
On the other hand, a land survey is a more comprehensive and detailed mapping of a property that a licensed land surveyor typically conducts. A land survey involves using specialized instruments and techniques to measure and precisely map the physical features of the property, including its boundaries, structures, dimensions, and topography. The surveying draws land survey to scale, including the features stated above.
While the simplified mortgage plot plan is typically sufficient for obtaining a mortgage loan, a more comprehensive land survey may be necessary for other purposes, such as constructing a new home, installing a fence, or resolving boundary disputes.