Uncertainty surrounding inflation and other economic factors resulted in a decline in the average U.S. mortgage interest rate, according to Freddie Mac's weekly Primary Mortgage Market (PMMS) Survey for the week ending August 4, 2022.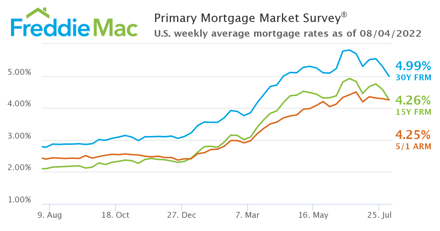 The 30-year, fixed-rate mortgage loan averaged 4.99 percent, with an average of 0.8 points, a 31-basis point drop from the previous week's 5.30 percent. During the same week last year, the 30-year note averaged 2.77 percent.
The PMMS focuses on conventional home purchase loans for borrowers who put 20 percent down and have excellent credit. Less qualified home buyers may borrow at higher interest rates. It's wise for prospective home buyers to discuss available loan programs with an experienced loan officer.
The Mortgage Bankers Association (MBA) reported on August 3, 2022, that mortgage applications to purchase a home rose 1 percent compared to the previous week but were 16 percent lower a year ago. "Lower mortgage rates, combined with signs of more inventory coming to the market, could lead to a rebound in purchase activity," said Joel Kan, the MBA's Associate Vice President of Economic and Industry Forecasting.
Related: Stay On Top of the Greater Boston Real Estate Market
In a sign of just how sensitive some home buyers are to mortgage interest rates, Redfin's Home Demand Index has shown an increase in online property searches and showing requests since mortgage interest rates have come down from their June high. Mortgage interest rates have declined since Redfin published the Index data on July 28, 2022.
Expensive homes and higher mortgage interest rates have home buyers looking to move from one metropolitan area to another, according to Redfin. A record 33 percent of Redfin users nationwide explored other metro areas, up from about 26 percent before the pandemic. Of the top 10 metros with "net outflows," Boston ranked 6th. The number one destination for Bostonians was Portland, ME.
New data from Realtor.com shows how higher mortgage interest rates make renting more affordable than buying a home in three-quarters of the nation's 50 largest metropolitan areas, including Boston (8th) and Providence.
Greater Boston Area Homes Especially Expensive
Buying a home in and around Boston is especially expensive. The median price of a single-family home in Greater Boston reached $900,000 in June, an 11 percent increase from $811,500 in June 2021, the Greater Boston Association of Realtors (GBAR) recently reported. Sixty-four cities and towns make up the GBAR territory. The median condo price rose 9 percent, reaching $700,000 in June. According to the Massachusetts Association of Realtors, the median price of a single-family house in Massachusetts was $629,000 in June. Condominium prices reached $545,000 statewide.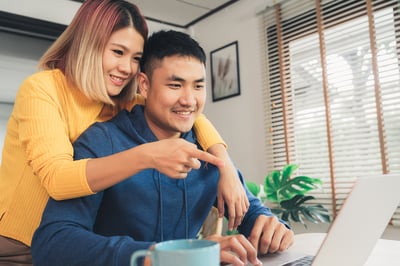 Although real estate inventory has increased slightly in some cities and towns, it remains incredibly tight in Massachusetts, with many communities in the Greater Boston area having less than one month of supply. For example, Beverly (0.8), Chelsea (0.9), Lynn (0.6), Medford (0.7), Melrose (0.7), Scituate (0.9), and Waltham (0.9) had less than one month of inventory of single-family houses, at the end of June.
The significant difference between the national real estate market and Massachusetts is inventory. The National Association of Realtors recently reported the stock of unsold existing homes rose to 3.0 months at the current monthly sales pace. Massachusetts has 1.3 months of supply of single-family homes in June and 1.4 months supply of condos statewide.