Median prices, sales, and inventory of single-family homes in Milford, Massachusetts, decreased in September 2022 on a year-over-year basis, according to data compiled by the Massachusetts Association of Realtors (MAR).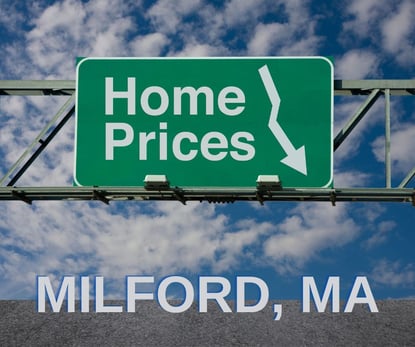 In September, the median house price in Milford was $465,000, a 4 percent decline compared to $482,500 in September 2021. Through September, home prices rose 10 percent to $506,000 from $461,000 during 2021's first 10 months.
Competition for homes cooled in September. In September 2021, homebuyers paid, on average, 103 percent of the original listing price and 106 percent through September. Homebuyers paid, on average, just below 100 percent of the original list price in September 2022.
A Deeper Dive into Milford, MA Real Estate Market
• Single-family home sales dropped 42 percent to 15 sold properties compared to 26 closed transactions in September 2021. Through the first 10 months of 2022, single-family home sales fell 5 percent to 166 compared to 174 during the same period last year.
• Pending sales – homes under contract that have yet to close – fell 35 percent to 11 compared to 17 in September 2021.
• Single-family home inventory remained tight in September, with slightly more than one month of supply. About six months of inventory is considered a balanced market between home buyers and sellers.
• The number of houses for sale dipped by two to 21 in September year over year.
Milford, MA Condominium Prices Stronger
• The median condo price jumped 11 percent in September to $405,000 on five sales compared to $365,000 in September 2021, MAR reported. Through September, condominium prices fell 3 percent to $352,000.
• Condominium sales dropped 50 percent in September. Through September, condo units sold fell 21 percent to 57.
• The number of condos on the market increased by one to seven.
• The number of months of supply of condominiums rose from about three weeks to one month in September.
• Homebuyers paid, on average, 103 percent of the original listing price compared to 104 percent in September 2021.