Plymouth, Massachusetts, fondly nicknamed "America's Hometown," is a town with a historical culture and folklore that arguably is unmatched anywhere else in the United States. In fact, it is one of the most historically prominent towns in the country overall. Plymouth, located in Plymouth County, also is the largest municipality in Massachusetts at approximately 103 square miles. From the thriving economy to the never-ending collection of attractions and events that take place all year long, Plymouth is a great American town to visit and especially to call home.
History of Plymouth, MA
Plymouth is home to one of the most historical sites in United States history. In December 1620 the pilgrims of the Mayflower voyage landed upon Plymouth rock. Before the arrival of the Pilgrims, the location of Plymouth was a village of about 2,000 Wampanoag Native Americans called Patuxet.

The following December Plymouth was the site of the first Thanksgiving.
Since its inception, the city has continued to grow and expand in population and industry while retaining the integrity of its historical importance. According to the 2010 Census, Plymouth had more than 56,000 residents. By population, Plymouth is the second largest town by population in Massachusetts behind Framingham, MA. For more than 30 years, Plymouth has seen more development and rapid growth, in part due to better transportation options; however, its commitment to upholding the integrity of its rich historical origins has not wavered.
Plymouth, MA Points of Interest
Located about 40 miles south of Boston in a region referred to as the South Shore, Plymouth is home to a rich historical culture and many fun and interesting points of interest that contribute to the strength of the tourism industry of the town. Below are some of the best-known attractions and events that help to make Plymouth a great place to visit and a fun and interesting place to live.

• Plymouth Rock: Plymouth Rock is one of the most famous attractions of Plymouth as it symbolizes the original landing site of the Mayflower in 1620.
• Plimoth Plantation: Plimoth Plantation Plantation is an outdoor living history museum located three miles south of Plymouth Center. The museum tells the history of the Pilgrims and the Native Wampanoag people. The site includes the Wampanoag Homesite, 17th-Century English Village, Craft Center, Plimoth Bread Company, Plimoth Grist Mill and Mayflower II, a full-scale reproduction of the original ship that sailed to Plymouth in 1620.
• Parks and Recreation: Plymouth is also home to Myles Standish State Forest, the second largest forest in the state. With 16 freshwater lakes and ponds, the park draws thousands of people that enjoy hiking, fishing, and camping. Ellisville Harbor State Park features a natural beach along the bay of Cape Cod. Plymouth also boasts 11 public and private golf courses, including Squirrel Run, Pinehills, Plymouth Country Club, and Southers Marsh. Plymouth also is not far from many of the 60 or so beaches on Cape Cod.
• Entertainment: Plymouth features a vibrant music and arts community, including the Plymouth Center for the Arts, the Driftwood Folk Cafe, and frequent concert series that are usually free of charge.

• Events: Throughout the year, Plymouth hosts a variety of family-friendly fun and educational events that help to keep the entire community engaged. From the Forefathers Day Parade every December to the cranberry harvest tours every fall, and everything in between, there is always a variety of ways for family and friends to get out and enjoy Plymouth. Halloween on Main Street is an annual event where kids of all ages can enjoy free fun activities.
Plymouth, MA Public and Private Schools
The Plymouth Public Schools enroll more than 8,000 students. It is one of the largest in the state, operating 14 schools, including Plymouth North High School and Plymouth South High School. There also are eight elementary schools, two middle schools, the Rising Tide Public Charter School and a preschool. The Vocational Technical Studies Program at both Plymouth South and Plymouth North High Schools consists of 15 programs that are blended into the comprehensive academic environment.
Plymouth also has private school options, including The New Testament Christian School and the nearby (Kingston, MA) Sacred Heart School, which is a private, Catholic, co-educational school serving students in preschool through 12th grade.

Quincy College, a public two-year college has a Plymouth campus. The commuter school offers associate's degrees and certificate programs in professional fields of study.
Plymouth, MA Real Estate
Plymouth offers diverse real estate options, including single-family homes, condominiums, and multi-family options. The median price of a single-family home in 2015 was $328,000. There were 716 single-family homes sold, according to data compiled by the local multiple listing service (MLS Property Information Network, Inc.). Ten single-family homes sold for more than $1 million. The median condo price was $249,500, and the most expensive condominium sold was for $915,000. There were 208 condo units sold in 2015 and 25 multi-family units sold.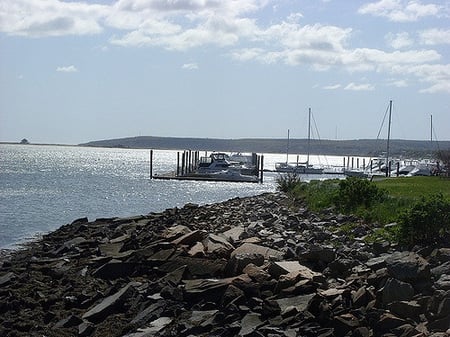 In 2016, through September 30th, the median price for a single-family home was $327,250, with 606 homes sold. The most expensive sale in Plymouth was for $1.8 million. There were 195 condominiums sold through the first three quarters of 2016 at a median price of $319,200. The highest price condo during the nine-month period was $850,000.
Transportation Options in Plymouth, MA
Plymouth, along with many other South Shore towns, made serious strides in the 1970's to improve upon its transportation system. Today, commuters are able to enjoy a variety of transportation options within the town, as well as to and from Boston.
• Rail: Plymouth is on the Kingston/Plymouth Old Colony Line of the Massachusetts Bay Transportation Authority's (MBTA) commuter rail, providing rail service as far north as Boston's South Station. The Plymouth MBTA station is near Cordage Park in North Plymouth, along Route 3A.
• Ferry: There is a seasonal ferry to Provincetown and several other excursion lines that offer cruises of Plymouth Bay and Cape Cod Bay . The ferry is operated by Capt. John Boats and offers one round trip daily from June to September. The ferry leaves from the State Pier in Plymouth Center. In addition to the ferry, there are harbor excursions, whale watching tours, and deep sea fishing from Plymouth Harbor.
• Bus: The Plymouth & Brockton Street Railway Company offers scheduled service to Logan Airport, downtown Boston, Hyannis, MA, Provincetown, MA, and other locations. The Greater Attleboro Taunton Regional Transit Authority (GATRA) operates public transportation buses known as the Plymouth Area Link (PAL) throughout much of Plymouth and Kingston, MA.
• Air: The town is home to the Plymouth Municipal Airport, which lies on the border between Plymouth and Carver. Founded in 1934, it is a town-owned, public-use general aviation airport. Shoreline Aviation offers chartered flights to Nantucket, MA. The airport has more than 170 aircraft and many contribute to the health, safety and security of the local communities. Boston Med Flight operates an average of four to seven flights per day responding to the emergency medical needs of the residents of Plymouth and Carver, as well as the entire area surrounding the airport. The Massachusetts State Police Air Wing is also based at the Plymouth Airport and is very active in air search and rescue, anti-terrorism and security. The Plymouth County Fire Plane provides critical assistance to the local fire departments in locating forest fires within Plymouth County. Plymouth residents have an open invitation to tour the airport. The airport features a local restaurant, gift shop, and other businesses.
Plymouth, MA Economy
Once home to thriving fishing, shipping and ropemaking industries, today Plymouth's economy is driven by tourism, with healthcare being the second largest industry in town. Plymouth is considered the tourism and economic center of the South Shore.

Learn, Live, Love Plymouth, MA
Plymouth has something for everyone, so it is no surprise that Plymouth is a popular choice for homebuyers moving to Massachusetts or native to the Bay State. Residents are grateful for the many attractions and annual events that help to make their town so entertaining to live in. They also enjoy the benefit of a strong housing market with competitively priced real estate and relatively low tax rates. New and old residents alike love Plymouth for its rich culture and history. For a homebuyer searching for the quintessential charm of an all-American town with all of the features and conveniences of a big city, Plymouth, Massachusetts may be a good option.
Plymouth Bay photo courtesy of Doug Kerr via a Creative Commons license.
Mayflower photo courtesy of lvv@ldzenl via a Creative Commons license.