Beyoncé may have had it wrong when she released her Grammy-winning hit "Single Ladies (Put a Ring on It)" in 2008. It appears more and more single women would prefer a home of their own.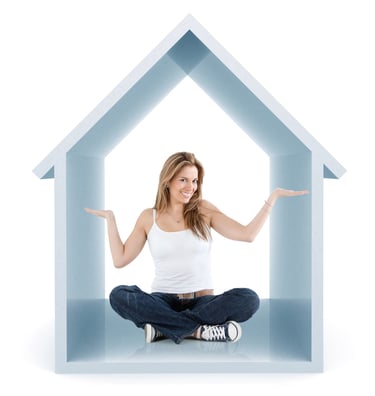 In Massachusetts and across the nation, more single females purchased homes than single males, according to the 2019 Massachusetts Profile of Home Buyers and Sellers.
Fifteen percent of Massachusetts home buyers were single women, and 10 percent were single men. Nationally, 17 percent of home buyers were single women, and only 9 percent were single men. Married couples made up 61 percent of home buyers, while 11 percent were unmarried couples in Massachusetts.
The National Association of Realtors (NAR) compiled the data in its annual Profile of Home Buyers and Sellers report on behalf of the Massachusetts Association of Realtors. NAR first administered the survey in 1981 with 59 questions. In 2019, NAR asked a "nationally representative" sample of recent home buyers 125 queries. NAR questioned the home buyers over 12 months between July 2018 and June 2019.
How Have Women's Priorities Shifted?
Bank of America's 2018 Homebuyer Insights Report ("Spotlight on Single Female Homebuyers") found single women put a higher priority on owning a home compared to single men (76 percent v. 65 percent). Some single women were prioritizing a home over other key life priorities, such as marriage (41 percent) and having children (31 percent).
The report also found single females were more focused on what they needed to do to reach the goal of homeownership. Single females were placing a higher priority than single males on saving for a down payment (65 percent v. 55 percent) and improving their credit score (49 percent v. 42 percent).
Bank of America also reported that when thinking about owning their first home, single women were more likely than single men to feel "responsible" (46 percent v. 34 percent), "independent" (43 percent v. 35 percent), and "empowered" (31 percent v. 23 percent). Single women who already owned a home said becoming first-time homeowners made them feel "independent" (57 percent v. 48 percent of single men), "successful" (47 percent v. 39 percent), and "empowered" (31 percent v. 26 percent).
What and Why are Single Women Buying?
House Beautiful magazine and Marie Claire (now a digital magazine) surveyed hundreds of single American women and published the results in January about what, how, and why they are buying. The publications questioned a "demographically representative" nationwide sample of women between 18 and 60 years old who bought a home.
The survey found that 49 percent of single women purchased in the suburbs, 26 percent in an urban area, and 25 percent in a rural setting. They bought single-family homes 72 percent of the time and condominiums and co-ops 13 percent of the time. Nine percent of single women bought townhouses.
Single women had varied reasons for buying a home, according to the House Beautiful and Marie Claire survey.
• Thirty-one percent of survey respondents said they became a homebuyer because "I'm making enough to afford a mortgage on my own."
• Twenty-nine percent of single females cited the "market being favorable."
• Twenty-six percent believed that "real estate is always a good investment."
• Fifteen percent were buying their own home after a "breakup or divorce."
Admit it, the next time you hear "Single Ladies," you're going to sing, "If you like it, then you shoulda put a down payment on it."