Average U.S. mortgage loan interest rates increased slightly for the week ending April 23, 2020, according to Freddie Mac's weekly Primary Mortgage Market Survey.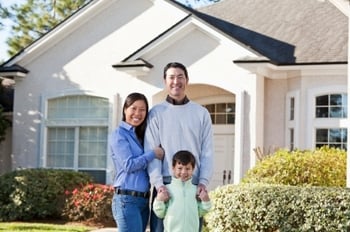 The 30-year, fixed-rate mortgage averaged 3.33 percent, with an average 0.7 point, compared to 3.31 percent the previous week. During the same period in 2019, the 30-year note averaged 4.20 percent.
"Mortgage rates have stabilized over the last few weeks as the market searches for direction in the fog of economic data," Sam Khater, Freddie Mac's Chief Economist, said. "While financial markets initially rallied on the news of Federal Reserve support and are improving due to the Senate's passage of a new small business stimulus, we continue to see a deep economic contraction amidst uncertainty about the recovery formation." Translation: We are unofficially in a recession, and it's impacting the mortgage market.
Inman, a real estate industry media company, reported April 22, 2020, that Fannie Mae's economic and strategic research group predicts the average rate for the 30-year mortgage could fall to 2.9 percent in 2021. The prediction includes the belief that mortgage activity will significantly increase in 2021.
Mortgage applications to purchase a home were up from the previous week; however, purchase applications were down significantly from the year before, according to the Mortgage Bankers Association (MBA) Weekly Mortgage Application Survey released April 22, 2020. The seasonally adjusted Purchase Index increased 2 percent for the week ending April 17, 2020, while the unadjusted Purchase Index increased 3 percent. Compared to the previous year, mortgage applications to purchase a home plummeted 31 percent from the same week one year ago.
"The pandemic-related economic stoppage has caused some buyers and sellers to delay their decisions until there are signs of a turnaround," said Joel Kan, the MBA's Associate Vice President of Economic and Industry Forecasting. "This has resulted in reduced buyer traffic, less inventory, and March existing-homes sales falling [nationally] to their slowest annual pace in nearly a year."
Prospective first-time homebuyers should invest the time in speaking with a loan officer, even if you are not planning to buy for several months. The mortgage industry is in flux due to the COVID-19 pandemic, and every person's situation is different.
Interest rates are just one factor you should consider when choosing a mortgage program. Also, you should know that you cannot lock-in an interest rate until you are within about 30 to 45 days from your closing date.
The 15-year, fixed-rate mortgage averaged 2.86 percent, with an 0.7 point, an increase from 2.80 percent the prior week. The 15-year mortgage, a popular choice for homeowners who want to refinance, averaged 3.64 percent last year.
The five-year, adjustable-rate mortgage (ARM) averaged 3.28 percent, with an average 0.3 point. The five-year ARM averaged 3.34 percent the previous week and 3.77 percent the year before.