The coronavirus pandemic made a challenging real estate inventory situation for homebuyers in Massachusetts more difficult in March.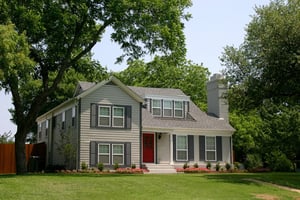 The number of single-family homes on the market in March declined by more than 4,000 compared to March 2019, a 32.9 percent drop, the Massachusetts Association of Realtors (MAR) reported April 22, 2020. There were 12,486 single-family properties for sale in March 2019 compared to 8,374 homes in March 2020.
The number of months of single-family home supply plummeted 33.3 percent to 1.8 months on a year-over-year basis from 2.7 months in March 2019. About six months of inventory is considered a balanced market between home buyers and sellers. There is less than one month of single-family inventory in many cities and towns in the Greater Boston area.
Single-family home inventory has decreased 97 out of the last 98 months statewide. March 2020 had the fewest homes for sale in any March since the MAR began reporting inventory data in 2004.
The inventory situation for prospective homebuyers may worsen before it improves. The number of new listings fell 5.8 percent, from 6,436 new listings in March 2019 to 6,061 new listings in March 2020.
Condominium inventory also fell in March 2020 to the fewest condos for sale in any March since MAR began reporting such data. The number of condos for sale dropped 27.8 percent, from 4,476 to 3,231 units on the market statewide.
The number of months of condominium inventory declined 32 percent in March to 1.7 months compared to 2.5 months in March 2019. The number of new listings in March decreased by 16.2 percent on a year-over-year basis to 2,297 units for sale.
Tight inventory resulted in sales declining and median prices rising. Single-family home sales slipped 1.1 percent in March to 3,471. Median home prices rose 6.5 percent to $416,000 compared to $390,500 in March 2019. The median price of a single-family home has risen 35 out of the last 36 months.
Condominium sales fell 2.7 percent to 1,462 units sold. The median condo price statewide increased by 14.3 percent to $428,500 from $375,000 in March 2019.