Prospective Massachusetts first-time home buyers have a variety of home loan programs to help them buy their first home with a low down payment, yet many new home buyers still believe they must have enough cash for a 20 percent down payment.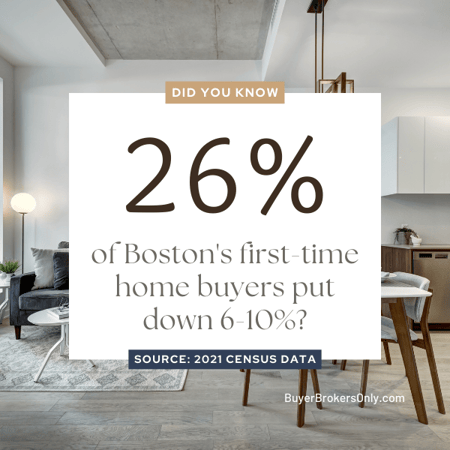 There are first-time home buyer programs that require only a 3 percent down payment, and there is down payment assistance for qualified buyers. Some home financing programs, explicitly tailored to a specific purpose, allow a home buyer to purchase with no money down. Home buyers should discuss all their options with an experienced loan officer.
Choosing the best home loan is essential. The National Association of Realtors (NAR) reports that home buyers finance 87 percent of homes purchased nationally, which rises to 95 percent for first-time home buyers.
According to an analysis of 2021 U.S. Census American Housing Survey data by Rocket Mortgage, the down payment reality is quite different from the perception. In fact, 73 percent of first-time home buyers put 15 percent or less down when they purchase a home.
Only 16 percent of first-time U.S. buyers put down 16 to 20 percent, according to U.S. Census data. Despite this reality, NAR reports that 35 percent of home buyers believe they need 16 to 20 percent down, and 10 percent believe they need more than 20 percent saved.
In contrast, nearly a quarter of American home buyers put down just 3 to 5 percent. In the Boston metro area, the largest number of first-time home buyers, 26 percent, put 6 to 10 percent down for a home purchase. The highly competitive real estate market in the Greater Boston area made it difficult to purchase a home with a 3 to 5 percent down payment over the last several years.
Related: Deposit v. Down Payment Explained in Massachusetts
Without a 20 percent down payment, most home loan programs will require borrowers to pay mortgage insurance, which protects the lender in the case of borrower default. Borrowers with higher credit scores typically pay lower mortgage insurance premiums.
Notably, first-time buyers nationwide aged 25 and under were more likely to buy a home with no money down, according to Rocket Mortgage. First-time buyers who purchased homes before 2005 typically made higher down payments in the 6 to 10 percent range, while in the last decade, the most common down payment shifted to 3 to 5 percent.
It's critical for first-time home buyers to seek competent advice about the various home loan programs available. It's important to note that not every lender offers every type of home loan. In addition, every home buyer's situation is different, so it's essential to find a program that's right for you.
One first step to consider is attending a Massachusetts first-time home buyer class that will provide an overview of first-time home buyer programs and the home-buying process.