Franklin, Massachusetts, a suburb with a population of just over 32,000 people, borders the towns of Bellingham, Medway, Millis, Norfolk, and Wrentham. Franklin, MA received national recognition after being named one of Family Circle's 2007 "Ten Best Towns for Families" in the United States and for being placed second in 2012, first in 2013 and 2014, and seventh in 2015 on NeighborhoodScout's list of 100 safest cities in the country. CNNMoney also ranked Franklin No. 10 nationally on their list of "100 Best Places to live and launch" your company.
Government/History
Despite its official name being the "Town of Franklin," it is a city form of government (In fact, the town/city has a theme song composed by a resident and music teacher called "The City Known as the Town of Franklin"). An elected Town Council and an appointed Town Administrator govern Franklin.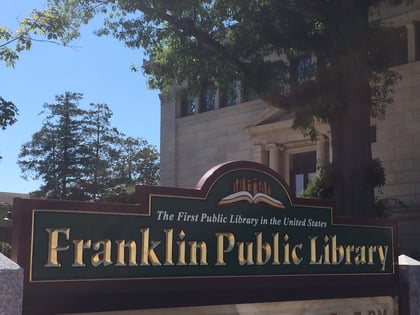 Franklin was originally settled in 1676 as part of the town of Wrentham and became incorporated as Franklin in 1779. The name Franklin was chosen to honor Benjamin Franklin, the first municipality in the United States to take the name in honor of him. As a sign of appreciation for the town being named after him, Benjamin Franklin sent the Town a gift of 116 books for the use of its residents. In 1790, the town voted to allow the books to be lent to its residents at no charge. This vote established the first public library in the United States, and the Franklin Public Library's Reading Gallery still displays Benjamin Franklin's book collection.
Franklin has a rich history of learning. Besides being home to the nation's first library, Franklin is the birthplace of Horace Mann, who is considered to be America's father of public education. It is also home to the Red Brick School, which started in 1792 and may have been the nation's oldest operational one-room schoolhouses until it closed in 2008. Franklin also has its own History Museum where you can learn more about its past.
Commuting/Transportation
Franklin has two exits along Interstate 495 on Route 140 that are nearby the intersection of I-495 and I-95, providing easy interstate highway access North, South, East, and West of town. Franklin has two MBTA stops (Franklin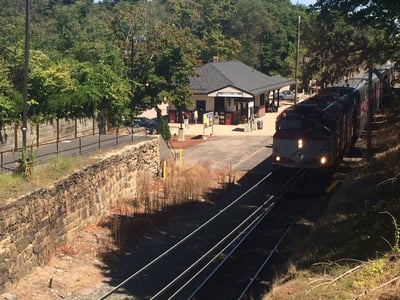 and Forge Park/495) along the Franklin line that brings you to four different Boston commuter rail stops (Hyde Park, Ruggles, Back Bay, and South Station) in roughly 50-70 minutes. Franklin also has a fixed route bus service run by the Greater Attleboro Taunton Regional Transit Authority.
Franklin, MA Education
The Franklin Public School system consists of six elementary schools, including the John F. Kennedy Elementary School, Jefferson Elementary School, Oak Street Elementary School, Gerald M. Parmenter Elementary School, Helen Keller Elementary School, and Davis Thayer Elementary School. There are three middle schools (Annie Sullivan Middle School, Remington Middle School, and Horace Mann Middle School), and one high school (Franklin High School). Franklin is also home to one regional vocational-technical high school (Tri-County Regional Vocational Technical High School) and one charter school (Benjamin Franklin Classical Charter Public School), which both operate independently of the Franklin public school system.
A new Franklin High School was built for the start of the 2014-15 academic year and includes science labs, integrated technology, and a performing arts theater. The grounds of old high school are now new athletic fields. According to the Town of Franklin's website, "[i]n 2008, Franklin was categorized as a 'high performance' school district. Students in Franklin surpassed state and national averages for MCAS testing with an average scoring of 'high' or 'very high' in every category."
Franklin is also home to Dean College, a private residential college founded in 1865.
Community Culture & Entertainment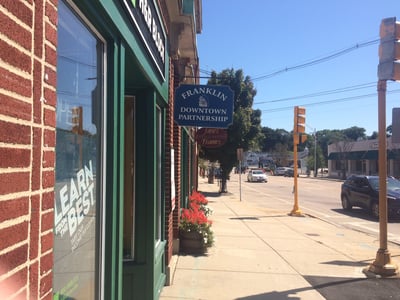 Throughout the year there are several activities and events in Franklin, including the Feast of St. Rocco, a Summer concert series on the Common, a four day long 4th of July Celebration, and the Downtown Franklin Partnership's Strawberry stroll, Harvest Festival, Holiday Stroll, and Cultural Festival. Franklin is also home to the Franklin School of Performing Arts and Dean College Performing Arts where you can see live performances throughout the year.
Shopping/Dining/Business
Franklin has numerous popular restaurants, as well as coffee shops, three major supermarkets, and three shopping plazas, as well as several specialty shops downtown. Additionally, the Wrentham Outlets and Patriot Place are both within a 15- to 20-minute drive.
Finally, Franklin is a great town for business, with multiple industrial parks housing several companies in the fields of manufacturing, medical and technology.
Franklin, MA Real Estate Market
The Franklin real estate market offers a wide variety of options for homebuyers, from colonials, Cape houses, ranch-style and raised-ranch style homes, condominiums, and new and newer developments. In 2016, 281 single-family homes sold in Franklin, with a median sale price of $412,500, an increase from $405,000 in 2015, according to MLS Property Information Network, Inc., the local multiple listing service. There were 268 houses sold in 2015. The lowest sales price in town was $149,450, and the highest sales price for a single-family home was $1,276,500. Homebuyers paid on average 98 percent of the original list price in 2016.
The Franklin condominium market had a slight increase in sales but a slight decrease in median price. There were 128 condos sold in 2016 compared to 116 units in 2015. The median condo price declined to $245,000 from $251,950 in 2015. The most expensive sales price for a condominium in 2016 was $688,284, and the least expensive sales price was $90,100. Condo buyers paid on average 99 percent of the original list price in 2016.
Franklin is a desirable mixture of city amenities with town charm.