For Boston home buyers looking for a new construction luxury condo in Boston's South End, the Ink Block development presents a rare opportunity. Besides nearly 400 apartments, the development will include 83 luxury condominiums known as the Sepia Condos at Ink Block.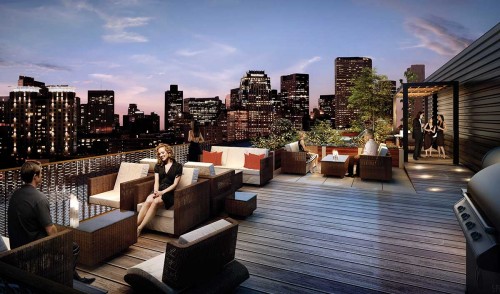 What is it?: The Ink Block is a 200 million dollar development poised to create a vibrant new neighborhood in the last undeveloped area of Boston's South End. Comprised of six (6) new buildings, Ink Block's developer, National Development (past projects include Arborpoint, 75SL and the Kensington) hopes this location – once the former home of the Boston Herald building – becoming one of Boston's finest destinations. Presently in the early stages of construction, Ink Block will create new residential apartments and condominiums in addition to 85,000 square feet of new retail space that will be home to shops and luxury restaurants as well as a brand new 50,000-square-foot, flag-ship Whole Foods Market.
Location: Ink Block is being built on the site which was previously home to the Boston Herald newspaper headquarters at the corner of Harrison Avenue and Herald Street in the South End. This location is commuter friendly, with easy access to Routes 90 and 93 and walking distance to the MBTA's Red, Orange and Silver lines. The location is also just steps from local restaurants and shops in the South End as well as the Back Bay, Theater District, Downtown and South Boston.
New Condos!: Perhaps most exciting is the recently announced Sepia Condos portion of the Ink Block development. Originally just apartments, the developers added luxury condos to the mix, answering the area's demand for new construction. Sepia will be an 8-story full service building featuring 83 luxury, new construction condominiums. Sepia's varied floor plans will offer a mix of studio, one-, two- and three-bedroom residences. Although construction won't be complete until the fall of 2015, home buyers currently have the opportunity to take advantage of preconstruction prices ranging from $489,000 to $2,000,000. Early home buyers are able to select finishes for the kitchen, bathroom, as well as flooring.
Condo Amenities: Amenities at the Sepia Condos will include everything on a luxury home buyer's wish list, including 24- hour concierge and front desk attendance, package acceptance service, fitness center, club room with lounge and kitchen, skyline roof deck with gas grill, rooftop pool, private balconies, secured underground parking, elevator, private entrance to Whole Foods, dry cleaning delivery service, Wi-Fi in all common areas, dog washing station, Zipcar and a car detail center.
Buying a condominium is different than purchasing a single-family house, and new construction is even more unique, requiring help from an experienced, competent and loyal buyer agent. Home buyers considering purchasing new construction condos should understand that agents in sales offices at the work site our loyal to the seller and do not owe any duty of confidentiality to a potential home buyer off the street.