Amesbury, Massachusetts is an idyllic little city situated in state's northernmost region, along the New Hampshire border. Although it was originally settled as a farming town in 1645 and grew to be a busy industrial center during the 1800s and early 1900s – shipbuilding, shipping and fishing were important industries – today it is a small, mainly residential city that embodies all the intimate charm of a small New England town.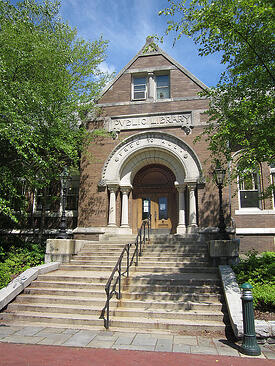 Its impressive collection of Federal and Victorian architecture and its beautifully manicured downtown area provide its more than 16,000 residents with the atmosphere of a great old city. Meanwhile, outside its historic city center, Amesbury's abundance of fields, forests and scenic roads create a rural setting for most of its neighborhoods and supply plenty of outdoor recreational opportunities.
Despite its small-town feel, Amesbury residents benefit from professional police and fire departments, as well as a public library with many educational resources. The Amesbury Public Library collections include books, eBooks, audio books, music, movies and more, including museum passes. The city has trash collection, and recycling is mandatory in Amesbury.
Amesbury's cozy feel, well-kept city buildings and scenic New England neighborhoods make it an attractive location to buy real estate. The city's relatively affordable home prices add to these great features and make many Amesbury homes a smart choice for a wide array of home buyers.
The median price for a single-family home in Amesbury, MA was $312,000 on 181 sales in 2013. The median price was $307,000 through the first three quarters of 2014 on 119 sales. The most expensive home sold through September in 2014 was $775,000 and six homes sold for between $500,000 and $600,000. The majority of homes during that same nine-month period sold for between $200,000 and $400,000.
Median condo prices stood at $183,500 on 92 sales in 2013. The median price was $173,000 on 75 unit sales during the first nine months of 2014. The highest priced condominium was $690,000 during the same time frame in 2014. The majority of condo sales were between $100,000 and $250,000.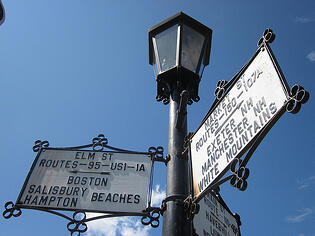 Amesbury, located in Essex County, is conveniently located to several points of interest. Aside from bordering Southern New Hampshire, Amesbury is only a 30-minute drive to Maine, about 55 minutes to Boston, and just minutes from coastal beaches in Salisbury, MA; Seabrook, NH; and Hampton, NH. Its location at the intersection of I-95 and I-495, as well as its convenient access to routes 1, 1A, 110, and 150, make it easy for residents to travel all over Massachusetts and to make trips to New Hampshire and Maine. In addition, although Amesbury does not have in-town access to public transportation, the neighboring towns of Newburyport, MA and Haverhill, MA have commuter rail stations that provide direct service to Boston, as well as various points along Boston's North Shore and the Merrimack Valley.
Residents with school-age children have access to a close-knit, dedicated team of educators. "The Amesbury School District is unconditionally committed to every child, ensuring that all students experience success through the development of attitudes and skills necessary for lifelong learning by providing the highest quality staff, meaningful learning experiences, and a vitally involved community," according to its mission statement. Amesbury Public Schools have been dedicated to renovating and maintaining school buildings, as well as keeping classroom technology and other resources up-to-date. Currently the Amesbury Public School System consists of two elementary schools, one middle school, Amesbury High School, and the Amesbury Academy Charter Public School (grades 8 to 12). Amesbury high school students may also apply to the highly-regarded Whittier Regional Technical High School in the neighboring City of Haverhill.
Aside from striving to provide a caring school community, Amesbury seeks to offer residents a close community. The city offers a myriad of programs for youth and adults, including sports leagues, theater arts and extracurricular classes. Unlike many other towns, Amesbury goes beyond offering programs by age group. Amesbury has been working to implement programs that integrate various age groups. In particular, the city's community organizers have created programs that bring youths and seniors together at the Amesbury Senior Center. This intergenerational group participates in joint learning classes, shared technology and art projects, and regular senior center cooking sessions. The Council on Aging advocates on behalf of Amesbury's older residents, providing a variety of health, economic, cultural and social services.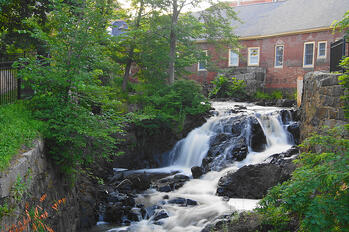 In addition to its many regular community programs, Amesbury has many wonderful venues for leisure activities. Those who enjoy the outdoors can enjoy the city's many parks, its two golf courses, or its Powow River pedestrian walkway and bike path called Riverwalk. The Powwow River drops approximately 90 feet in the city center. Those who are looking for something a little less typical can stop by the 145-acre Cider Hill Farm, which cultivates honey bees, produces cider on-site, and allows the public to pick their own fruits and vegetable in-season. For those who seek more adventurous outdoor thrills, Amesbury Sports Park features extreme snow tubing in the winter and outdoor gravity orb tubing in the summer. For the museum-going resident, there is also much to see. The city's Bartlett Museum, which is a well-preserved 1870 school house, showcases artifacts from Amesbury's history; including pieces from Amesbury's world-famous carriage-making days. There is also the Whittier Home, which was the residence of acclaimed poet John Greenleaf Whittier. This historically preserved site features authentic furnishings, personal effects and Whittier collections. In addition to the preceding museums, Amesbury is dotted with several other historic monuments and architectural sites, including the Rocky Hill Meeting House, which is arguably one of the best preserved examples of an original eighteenth-century meeting house interior.
Overall, Amesbury truly has a lot to offer home buyers. Its beautifully-preserved history, picturesque surroundings, affordable housing stock and friendly social community make it easy to call this charming New England city home.
First two photos by Doug Kerr via a Creative Commons license.