New Hampshire Home Buyers were out in full force to get the Spring real estate season started, pushing NH home sales and median prices up in April 2013.
The number of residential homes sold in New Hampshire in April was the highest for any April since 2006, climbing more than 9 percent compared to April 2012, the New Hampshire Association of Realtors (NHAR) reported May 16, 2013.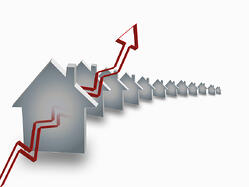 A total of 1,073 homes were sold in the Granite State, a 9.2 percent increase from April 2012. April marked the 17th consecutive month of year-over-year increases in home sales.
The median home price in April increased 8 percent compared to April 2012 to $206,000, the highest median price for the month of April since 2010. The sales volume in April, meaning the total dollars exchanged in those residential home sales, was $260.8 million, up 11 percent from last year. April 2013 marked the largest April sales volume since 2007.
Through the first four months of 2013, unit sales are 9 percent ahead of the same period last year, while median price is up 5 percent and sales volume has increased by 9 percent.
Condominium activity in New Hampshire is trending at an even greater rate than residential sales in 2013. Unit sales of condominiums increased 12 percent through the first four months of 2013 compared to the same period in 2012. The median condo price has increased 9 percent and sales volume surged 20 percent.
Eight of the 10 New Hampshire counties saw residential unit sales increases in April, the only exceptions being Carroll and Coos counties. Median price also increased in eight of 10 counties, with only Cheshire and Sullivan counties witnessing price declines.
The median price of residential sales in Rockingham County, home to Portsmouth, NH, Salem, NH and surrounding communities, increased 14.6 percent in April from $239,000 to $275,000. Hillsborough, Merrimack and Stafford counties also saw increases in median home prices. The median sale price in Hillsborough County, home to Nashua, NH, increased 5.8 percent from $210,000 to $222,250. In Stafford County, home to Dover, NH, the median price of homes sold in April increased 8.2 percent from $183,000 in April 2012 to $198,000. The median price of residential sales in Merrimack County, home to Concord, NH, increased 11.8 percent in April ($169,000 in April 2012 compared to $189,000).