New Hampshire home sales in October increased 26.3 percent compared to October 2011, SeacoastOnline reported November 24, 2012.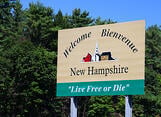 The median price of homes also increased, jumping 9.1 percent compared to the previous year.
RE/MAX of New England provided the real estate data from its monthly housing report.
There were 1,447 sales in October, up from the 1,146 sales recorded in October 2011 in New Hampshire. The report also showed the median sale price for October sales in the Granite State was $201,900, up from a $185,000 median home price in October 2011.
The report did show some potential weakness in the coming months. There were 812 pending sales last month, a decrease from 1,112 pending sales in October 2011. Pending sales have not yet closed.