People really do love Buyers Brokers Only, LLC on Yelp.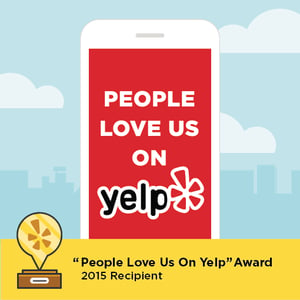 Buyers Brokers Only earned the "People Love Us On Yelp" award for 2015, and 98 percent of reviewers have awarded the company five stars, making it one of the most highly recommended real estate brokerages in the Greater Boston area and Southern New Hampshire.
On December 16, 2009 a Buyers Brokers Only client left the company its first Yelp review. Jen B. provided a five-star review about six years ago and wrote, "This is the crème de la crème of real estate agents." Since that initial review more than 100 homebuyers have left reviews on Yelp, and the company has maintained an overall five-star rating.
"We are proud of our Yelp reviews and greatly appreciate the clients who have taken the time to recognize our customer service," Buyers Brokers Only co-founder Richard Rosa said. "Our goal with every client is to provide a level of customer service that motivates homebuyers to want to write a five-star review immediately after the closing."
Yelp was founded in 2004, and it averages 89 million visitors per month. Consumers have written more than 90 million reviews on Yelp. Yelp uses automated software to recommend the most helpful and reliable reviews for the Yelp community. The software looks at dozens of what Yelp calls "signals, including various measures of quality, reliability, and activity on Yelp." Whether a business advertises does not affect whether its reviews are recommended or not.
"Our motto has been to do what is in the best interest of our homebuyer clients even if it means more work and less money," co-founder Dave Kres said. "That dedication to homebuyers has paid off in great reviews from our great clients. In addition, those reviews have helped us improve our business and provided consumers with valuable information to make choices about homebuyer representation"
About Buyers Brokers Only, LLC: Buyers Brokers Only, founded in November 2005, has grown into one of the largest exclusive buyer agent real estate brokerages in the United States. Less than 1 percent of real estate agents in Massachusetts and New Hampshire can call themselves exclusive buyer agents. Buyers Brokers Only has more than 20 buyer brokers who help homebuyers purchase homes in the Greater Boston area, including the City of Boston, Boston's south and north shores, MetroWest, the Merrimack Valley, Central Massachusetts, Southeastern Massachusetts, parts of Cape Cod and Southern New Hampshire. All the buyer agents at Buyers Brokers Only also are licensed attorneys who strongly advocate for their homebuyer clients.