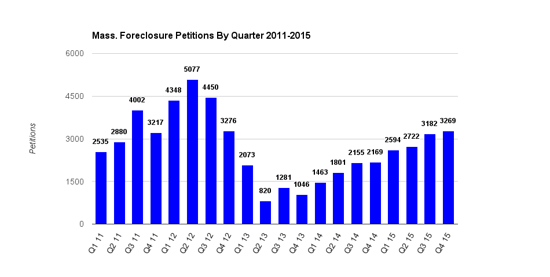 Since the start of the foreclosure crisis about 10 years ago, the economy has improved, more people are working and home sales and prices have increased. So why did Massachusetts foreclosure activity jump in 2015?
Timothy Warren, Jr., the CEO of The Warren Group, publisher of Banker & Tradesman, believes the increase in foreclosure petitions and deeds is the result of lenders clearing out old delinquencies, as opposed to a large increase in new overdue loans.
"Lenders are pushing more foreclosures through the system now that they're both comfortable with the state's regulations and feel they may be able to resell these properties at a good price," Warren said. "We are not yet concerned that we're approaching another crisis; the indications are many of these are old delinquencies that the banks delayed acting on, not a new glut of bad loans."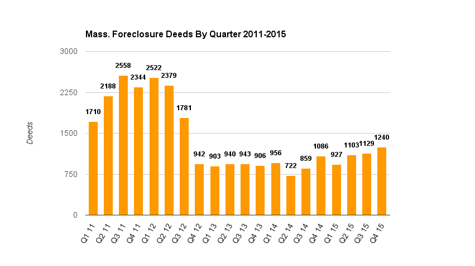 There were 11,767 foreclosure petitions recorded in 2015, a 55.1 percent increase from the 7,588 petitions filed in 2014. Foreclosure petitions are the first entry in the public record in the foreclosure process. It is when lenders file a notice of intention to foreclose with the Land Court. Not every foreclosure petition results in a completed foreclosure. December was the 22nd consecutive month of double-digit, year-over-year increases in foreclosure petitions, but the 1,224 petitions in December were a far cry from the the number of foreclosure petitions filed in Massachusetts during the foreclosure crisis. For example, there were 2,724 foreclosure petitions filed in December 2007.
There were 4,399 foreclosure deeds recorded in 2015, a 21.4 percent increase from 3,623 deeds in 2014. Foreclosure deeds increased 46.1 percent to 469 in December 2015 compared to 321 deeds recorded in December 2014. Foreclosure deeds represent completed foreclosures. Foreclosures are completed when lenders record at the Registry of Deeds a new deed, which indicates there has been a change in the ownership of the foreclosed property.
There were 563 foreclosure auction notices recorded in December, an 11.7 percent increase from the 504 notices filed in December 2014. There were 6,891 auction notices in 2015, a 25.2 percent increase from the 5,504 in 2014. An auction notice is an alert to the Land Court that the lender has scheduled an auction and publicly announced the time, date and address in legal notices in local newspapers.