It's peculiar and, at the same time, somewhat amusing and sad, to watch people dressed as burglars, donning masks, gloves, and shoe booties, tentatively walking through homes for sale.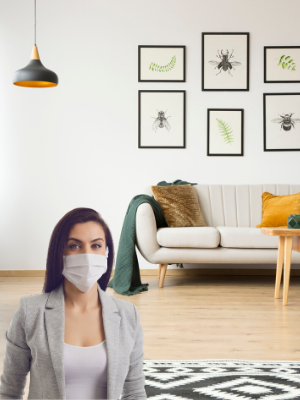 That's what home buying in Massachusetts looks like in a COVID-19 world. It might look similar in a post coronavirus world too.
Governor Charlie Baker has deemed real estate an essential business in the Commonwealth. Real estate agents are allowed to perform all of their services but aren't allowed to keep their physical offices open.
Although Governor Baker's executive order allows in-person client meetings and open houses limited to 10 occupants, the vast majority of real estate professionals are taking more considerable precautions. In the age of Zoom and Google Meet, meeting face-to-face during a pandemic seems unnecessary.
Most listing agents hold open houses utilizing social distancing protocols. Sometimes prospective homebuyers wait their turn outside while other homebuyers and their buyer agents finish casing the property. Other listing agents require appointments during a specified "open house" period. Private showings are available but limited. The usual accessories, face, hand, and feet coverings, are standard practice. Removing shoes is an acceptable alternative to wearing booties over your shoes. Hand sanitizer flows like roaring rapids.
Some listing agents ask homebuyers and buyer agents to review and sign a questionnaire, answering questions about whether anyone has demonstrated symptoms commonly associated with the coronavirus, e.g., fever, cough, shortness of breath. One agent's survey asked whether the prospective homebuyers or their buyer agent had traveled to New York or New Jersey in the past 14 days. That question seems to have limited usefulness is a rapidly changing environment.
New rules regarding showings are plentiful. The following is a sample of such directives.
• Children shouldn't attend showings unless parents can hold them at all times.
• Buyers and agents should use hand sanitizer before entering the house.
• No more than four or five people are allowed in the house at one time.
• Buyers should not touch any surfaces or open any doors or cabinets. Buyer agents can open doors.
• Please remove shoes before entering the home.
Of course, listing agents are asking buyers and buyer agents to don their burglar attire.
Despite the obstacles to home showings, for what little inventory is available, home shopping in Massachusetts remains active. Prospective homebuyers must be ready to act. It's wise to retain a buyer agent and to obtain a pre-qualification letter from a reputable local lender. The Boston area is not a real estate market for tire kickers at this time.
An increase in available virtual tours – some more professional than others – is a positive byproduct of the pandemic. Actual 3D tours eliminate unnecessary showings.