Not since April 2014 have homebuyers seen average U.S. mortgage interest rates as high as the rate reached for the week ending December 22, 2016, Freddie Mac reported in its Primary Mortgage Market Survey.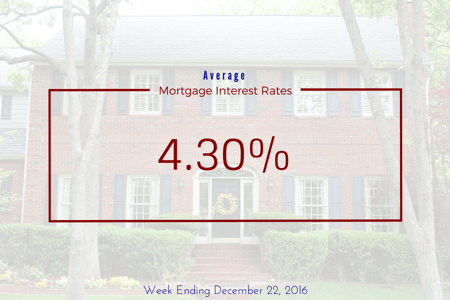 The average interest rate for the 30-year, fixed rate mortgage loan increased for the eighth consecutive week, rising to 4.30 percent, with an average 0.5 point, compared to 4.16 percent the previous week and 3.96 percent during the same time last year.
"A week after the only rate hike of 2016, the mortgage industry digested the Fed's decision and this week's survey reflects that response," Sean Becketti, chief economist for Freddie Mac, said. "Following Yellen's speech last Wednesday, the 10-year Treasury yield rose approximately 10 basis points. The 30-year mortgage rate rose 14 basis points to 4.30 percent, reaching highs we have not seen since April 2014."
The 15-year, fixed rate loan increased from 3.37 percent to 3.52 percent, with an average 0.5 point, and it was up from 3.22 percent during the same week in 2015. The 5-year, adjustable rate note increased to 3.32 percent.