The average U.S. mortgage interest rate reached its highest level since 2001 for the week ending August 24, 2023, according to Freddie Mac's weekly Primary Mortgage Market Survey.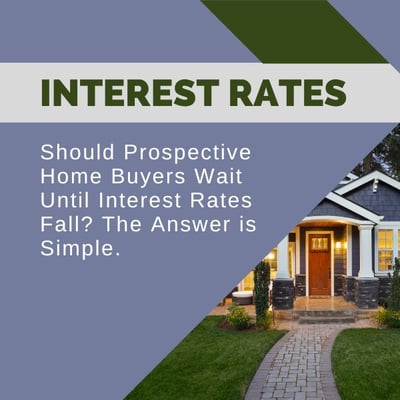 The 30-year, fixed-rate mortgage rose from 7.09 percent the previous week to 7.23 percent. During the same time last year, the 30-year note averaged 5.55 percent.
The Mortgage News Daily Rate Index showed an average interest rate for the 30-year, fixed-rate mortgage of 7.39 percent on Friday, August 25, 2023. Freddie Mac and Mortgage News Daily use different data to determine average rates.
A common question among first-time home buyers is whether they should wait for mortgage interest rates to decline. Assuming the prospective home buyer can still afford to buy a home, the answer is "No," they should not wait for rates to fall.
The logic behind not waiting is simple. If interest rates rise after you buy, you'll be glad you locked in a better rate. If interest rates decline after you buy, you can refinance and save money.
Related: Are Higher Interest Rates to Blame for Scarce Inventory?
In fact, if mortgage interest rates decline to around 6 percent, the competition for homes will likely increase, resulting in even higher home prices. Waiting for lower interest rates might result in the opposite of the intended outcome for some consumers.
Affordability Still a Challenge
While it does not make sense for would-be home buyers to sit on the sidelines, hoping for lower mortgage interest rates, it doesn't mean housing affordability isn't a severe problem. Regardless of interest rates, you cannot buy a home you can't afford.
The Massachusetts Association of Realtors publishes a monthly Housing Affordability Index, which measures how affordable a region's housing is to local consumers. For example, an index of 105 indicates the median household income is 105 percent of what is necessary to qualify for the median-priced home under prevailing interest rates. A high number means greater affordability. The index is based on the interest rates, median sales price, and average income by county.
The index declined to 48 in July, down 16 percent from July 2022. Two years ago, in July 2021, the index stood at a much more affordable 76.