Average U.S. mortgage interest rates declined for the second consecutive week, according to Freddie Mac's Primary Mortgage Market Survey released January 12, 2017.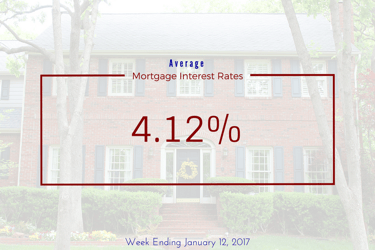 The 30-year, fixed rate mortgage declined to 4.12 percent, with an average 0.5 point, for the week ending January 12, 2017, from 4.20 percent the previous week. The 30-year note averaged 3.92 percent during the same week last year.
"After absorbing a mixed December jobs report, the 10-year Treasury yield fell 8 basis points," Sean Becketti, chief economist for Freddie Mac, said. "The 30-year mortgage rate moved in tandem with Treasury yields falling 8 basis points to 4.12 percent, the second decline since the presidential election. The December jobs report showed 156,000 jobs added, barely meeting many experts' expectations, while wage growth was at the high end of expectations at 0.4 percent. If strong wage gains persist, they may push inflation and interest rates higher."
The 15-year fixed rate mortgage loan declined to 3.37 percent from an average of 3.44 percent the previous week. During the same week in 2016, the 15-year note averaged 3.19 percent.
The 5-year, adjustable-rate mortgage averaged 3.23 percent, down from 3.33 percent the previous week and 3.01 percent the previous year.