Massachusetts foreclosure petitions increased for the 23rd straight month on a year-over-year basis in January 2016 and were at the highest number since January 2013, The Warren Group, publisher of Banker & Tradesman, reported March 1, 2016.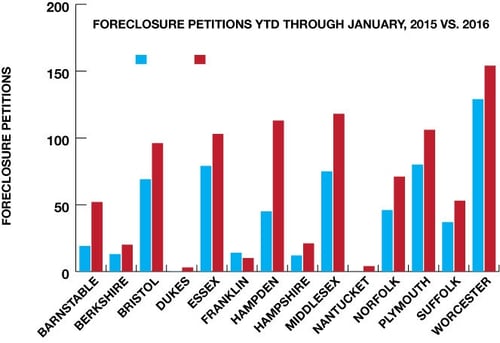 Lenders recorded 924 petitions to foreclose on properties in Massachusetts in January, a 49.5 percent increase compared with the 618 petitions recorded in January 2015. Foreclosure petitions are the first entry in the public record in the foreclosure process. It is when lenders file a notice of intention to foreclose with the Land Court in the county were the real estate is located. Not all foreclosure petitions lead to a completed foreclosure.
Despite the increases over the past two years, the number of foreclosure petitions have been modest compared to the numbers during the foreclosure crisis.
"Foreclosure starts have remained in a fairly narrow range for a year now," Timothy Warren, Jr., CEO of The Warren Group, said. "Monthly totals range between 868 and 1224. January's total of 924 is on the low end of that range. While the numbers are well below the peak activity we saw in the five years from 2005 to 2010, the numbers have increased for the past two years as lenders opened the pipeline spigot on processing long-delinquent mortgages, sending those homeowners into the foreclosure process."
The fact is there really are not that many foreclosures available to homebuyers to purchase, and many of these foreclosed properties need tens of thousands of dollars in repairs and necessary upgrades, making the properties a poor choice for the vast majority of first-time homebuyers.

There were 348 foreclosure deeds recorded in January, a 35.4 percent increase from the 257 recorded in January 2015. Foreclosure deeds are the final step in the Massachusetts foreclosure process and represent completed foreclosures. The deed is recorded at the Registry of Deeds in the county where the real estate is located.
Statewide there were 745 foreclosure auctions scheduled in January, a 29.6 percent increase from January 2015 when there were 575 auctions scheduled. An auction is scheduled through legal advertising in local newspapers with the lender giving the time, date and address for the auction to take place. In many cases, the lender actually purchases the property at auction.