Are you preparing for an upcoming move to a new home? Do you have concerns about how the transition will go for your child with autism? How will you prepare your autistic child for such a transition?
Home buying can be a stressful process for some families, even under the best circumstances. It is natural for people to struggle with change. For many children with autism, these issues are tenfold. Children don't have a lot of experience dealing with change, and children with autism often have great difficulty dealing with unanticipated changes or transitions, even small daily occurrences.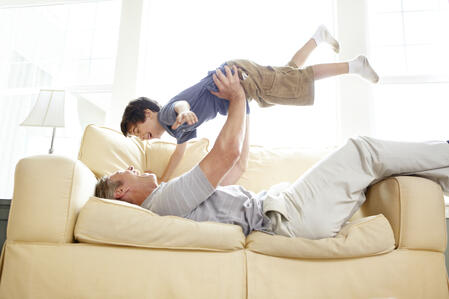 You don't want to let the needs of your autistic child get buried beneath the logistics of buying a home. Home buyers can take steps to reduce an autistic child's stress and anxiety that may occur as a result of moving. Routine is important, and a move to a new home may significantly disrupt your child's routine.
Taking the time to prepare all family members for the transition, to think about potential discussions surrounding what will change and stay the same after the move, and to put together some materials to help minimize potential stress and anxiety, will allow everyone to have the most comfortable transition possible.
Carefully Choose the Time Frame to Discuss the Move
You don't want to start talking about moving a year in advance, but you also don't want to wait until the moving trucks show up to present the news. Consider starting the discussion one or two months before your moving date. Your child will have ample time to process the information without spending months worrying about what will happen when that time comes. For some children with autism, the fear of the unknown may be worse than the actually change, which he or she may adjust to surprisingly well. You know your child best, and you probably have a good idea of how far in advance you should start discussing buying a home and moving.
Keep Discussions About Your New Home Positive
It is inevitable that there will be apprehension about the home-buying process and the subsequent move in general. From possibly selling your current home to starting a new job to setting your kids up in a new school, all members of the family have reason to be a little nervous and stressed. It is okay to discuss these topics, as long as the attitude remains positive. If your child is worried about the idea of having a new teacher or making friends, it can be reassuring to share similar worries. For example, you can say, "I'm nervous about starting my new job just like you're nervous about going to a new school in the fall. But I know that we're both going to do well."
Another option when discussing the move is the use of social stories, which are tools to help individuals on the autism spectrum learn to model appropriate social interaction by describing a situation with relevant social cues, other's perspectives, and a suggested appropriate response.
Make a Book or Other Materials About the Move
Many children with autism are visual learners and can understand text and images much better than verbal information. Having a book or other printed material may prove beneficial for the upcoming move. If you're not a writer or you don't feel that you're particularly crafty, don't get intimidated. Your book doesn't have to be anything fancy. Start by outlining different areas of your child's life such as home, school, and after school activities. What is going to stay the same? What is going to be different? The format for the book will not be the same for all children. For example, maybe you're moving across town and not changing school districts or maybe you're relocating to a new state where all of your kids will be in new schools.
Once you have your outline, gather pictures. You'll want to have a selection of current pictures and pictures that reflect the upcoming move. For example, you may want to have a few pages about school that highlight the new and old buildings, classrooms, and teachers. If you can't take pictures of new places, look for pictures online. It is important to address both similarities and differences. There are at least a few key aspects of life that won't change, such as the people living in the house. Discussing similarities provides reassurance for children with autism who may believe that an upcoming move means that everything will change.
As you put together the book, make sure to include pictures of your child. Seeing pictures of himself playing on a playground, working with a teacher on a favorite activity, and watching TV at home with his brother will let him know that he'll still be able to do these things after he's moved to a new home.
Finally, think about including a calendar in the book. Having a visual with the date of the move is more concrete than talking about a date. Simply print off a calendar page and circle or highlight the moving date. You can refer back to this calendar during subsequent discussions about when the move is going to take place.
If you want to discuss the upcoming transition with your child and don't feel that a book is necessary, think about other ways to include visuals in your discussions. For example, you may want to go online and look at pictures of the new house and the new school together. Maybe a virtual drive down the street where you are buying the home using Google Maps' street view?
If you're ever in doubt about tactics for preparing your child with autism for moving, talk to family, friends and professionals. They may be able to share insight about their own experiences or experiences that they are familiar with. Your child's special education teacher and doctor are likely to have had some experience with children who have moved to new homes and can share strategies that can be used.