For many of us, smart technology for the home has given us better efficiency, improved security, and more comfort in our everyday lives.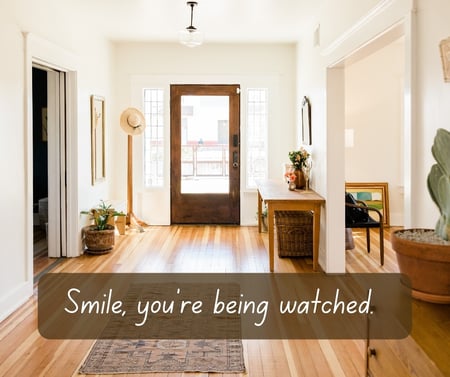 The Internet of Things (IoT) has brought prices for smart home devices down over the past several years. Improvements in WiFi make such devices more effective, resulting in a growing number of homeowners outfitting their homes with these devices.
By the numbers, about 9.4 million homes across the country now have some form of WiFi-enabled camera on site. In 2020 alone, Americans bought 8 million video doorbells. Another 53 percent of homes have smart speakers installed, allowing the homeowner the ability to listen to conversations throughout the house on their smartphone.
Why Should Homebuyers Care?
Today, homebuyers have more to worry about than skyrocketing real estate prices and rising interest rates. A recent poll found that 30 percent of sellers admitted using hidden home cameras to monitor homebuyers when their home was on the market. That's a 100 percent increase from just a few years ago.
Most sellers aren't installing these devices to keep tabs on potential buyers. Typically, they already have them for added convenience and security. A system with integrated motion detectors can notify homeowners via text or email when someone is in the house. The homeowner can then observe the prospective home buyer on their computer, laptop, or smartphone or automatically record the visit to view later. Real estate agents and attorneys say that these devices present ethical and legal issues once the property is listed for sale and opened for prospective homebuyers to view.
Gathering Information During Home Visits
There are many reasons that a homeowner might want to monitor a walkthrough, and most are harmless. Most sellers, when asked, said that they did it to find out what potential homebuyers didn't like about the house to improve staging. Other sellers use their cameras to ensure their home remains safe during a showing or to monitor when visitors leave so they can return home.
While some homeowners feel it can be helpful to hear a potential buyer's opinion, a third of those polled said they wanted information to use in negotiations.
Yes, But is it Legal to Watch (and listen) to Homebuyers?
Here's where it gets tricky. Aside from the ethical issues of eavesdropping, there also can be serious legal concerns. Laws vary widely by state. In many states, there can be an expectation of privacy. The use of cameras by home sellers without consent can violate the law.
These laws are set at the state level, and adding an audio component, can complicate things. In Massachusetts, for example, audio and video laws vary drastically and are treated differently from a legal standpoint.
Because video cameras are prevalent everywhere, from stores and the workplace to street corners, it is generally legal to record anyone in public view, including inside and outside your home. In fact, in most states, including Massachusetts, taking a video of someone with a hidden camera is not against the law. The people being recorded do not need to give consent. Recording someone in public or your home without permission only applies to video. It is important to note that it is illegal to record a person in an area where they would expect privacy, for example, the bathroom or bedroom. Where it gets more complicated is when audio is added to the mix.
When dealing with audio recording, you need to know that it can run afoul of state and federal wiretapping laws. Today, most hidden cameras have an audio component. Many state laws require at least one party involved in the conversation to know that audio is being recorded.
Twelve states, including Massachusetts and New Hampshire, require all parties to know when their conversations are recorded. Recording audio of conversations between homebuyers and their agents in your home without the consent of all parties is in violation of federal and state wiretapping laws. It is a felony that carries severe penalties!
What's the Best Move? Skip the Spying!
A good listing agent will discourage sellers from eavesdropping or taping buyers, not only to protect everyone legally. When showing a home, the goal is to touch the buyer emotionally. Recording them in your home is not only offputting; it is a little creepy.
A recent Lending Tree poll on the subject found that 44 percent of buyers would walk away from their dream home if they knew the seller recorded their tour. Another 56 percent found the practice ethically wrong, unfair, and an invasion of privacy.
Today, with the growing use of smart speakers, cameras, video doorbells, and other listening devices, there is a temptation to listen in. The key to legal protection for sellers who choose to eavesdrop is disclosure.
Should you decide to use hidden cameras and listen, do not do it without disclosing it to your listing agent, even if your cameras are clearly visible. Be fully transparent about any audio and video recording equipment used in the home when a buyer is present. To cover yourself legally, consider:
• Disclosing in the MLS listing sheet that video and/or audio surveillance is in use on the premises
• Consider having the buyer and their agent sign a disclosure stating that they are being recorded, especially if audio is used. Most states require at least one-party consent. Massachusetts requires approval from all parties.
• Post signs around your home to make homebuyers clearly aware that they are being recorded on your property.
Full disclosure can lessen a homebuyer's apprehension about being recorded and cover any consent laws in your state; however, do not record any audio without written consent. Federal law prohibits any recording of conversations without at least one person's permission. Massachusetts requires the consent of all parties involved in any conversation.
What To Know As a Homebuyer Touring Homes
Today, more homes are using some form of security camera, whether it is a video doorbell or hidden nanny cams in the baby's room. While the legal obligation is for the seller to disclose you are being recorded, there's a chance you are being secretly recorded.
When working with a real estate buyer agent, ask about potential cameras or listening devices before entering a home. When put on notice by the listing agent that there are cameras on the property, Jeff Goodwin, a broker with Buyers Brokers Only, LLC, advises his clients to refrain from any commentary (positive or negative) until they leave the property.
Heidi Blanchet, also a buyers agent with Buyers Brokers Only, LLC, adds, "It's important to remember that smart doorbells and cameras can pick up a lot. Be on the lookout for any devices when you enter and tour the home." Some devices like a Ring video doorbell are easy to spot; others may be hidden or completely concealed.
Even if you don't see any devices, the best practice is to assume you are being watched or listened to at all times – and act and speak accordingly. Keep enthusiasm to a minimum, ask your agent to do the same, and discuss your feelings about the property once you are away from the home. The simple fact is as the cost of home-monitoring technology continues to decrease, utilization will only increase.