Massachusetts home buyers should know home inspectors do not check smoke detectors and carbon monoxide detectors during a home inspection; however, state law requires home sellers have smoke detectors and carbon monoxide detectors checked by their local fire department before the sale of their home.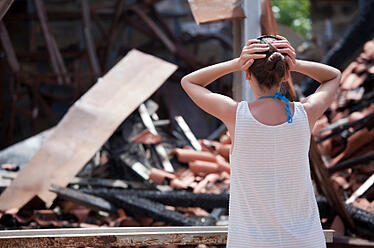 Despite the comfort of knowing that the local fire department has inspected smoke detectors and carbon monoxide detectors for code violations before they purchased their home, new home buyers – now homeowners – can further protect themselves by considering the following fire safety tips at home.
No one thinks a fire at home will happen to them, yet according to data from the Massachusetts Fire Incident Reporting System, there were 31,229 fires reported in Massachusetts during 2012 that caused 39 civilian deaths, 322 civilian injuries, 531 fire service injuries and an estimated $257 million in property damage.
1. Regularly check smoke detectors
Studies show working smoke alarms can double your chances of survival in a home fire. To ensure your safety, test them monthly, keep them free of dust, and replace the batteries at least once a year. Placement matters: there should be at least one working smoke alarm on each floor and in every sleeping area. Also, make sure everyone in the house can hear the smoke detector from their bedroom.
2. Install home fire safety sprinklers
Home fire sprinklers can reduce property loss, increase property value, and can even cut homeowner insurance premiums. Home fire sprinklers can control or extinguish a fire before the fire department arrives at your home. As of the date of this blog post, home fire sprinklers are not required by the Massachusetts building code; however, some municipalities may require a new construction home have home fire sprinklers based on certain circumstances. Many Massachusetts fire chiefs have advocated for such a requirement in the building code for new one- and two-bedroom construction. Worried they may be an eyesore? Modern home sprinklers can be mounted flush with walls or ceilings.
3. Practice an escape plan
Home fires are known to spread rapidly, which is why homeowners and their families should develop a fire escape plan. Twice a year, practice your escape plan from every room in the house. Remind everyone to stay low to the floor and never to open doors that are hot. Once an alarm sounds, families may have as little as two minutes to escape; you can use a stopwatch to time how fast your family can reach safety. In your plans, designate a location outside where everyone can meet after escaping the house.
4. Educate your children about fire
Young children are naturally curious about fire. Parents can take the mystery out of fire play by teaching kids that fire is a tool, not a toy. Keep all matches and lighters in a secure drawer or cabinet, and keep an eye out for burned matches as it may indicate kids have been playing with fire. Teach children to stop, drop to the floor, and roll in case their clothes ever catch fire.
5. Prevent electrical fires
Electrical fires are more common in winter when people are often inside their homes using light, heat and appliances. To prevent an electrical fire, do not overload circuits and extension cords with too many devices or high-wattage appliances. If there are not enough wall outlets, have an electrician professionally install more. To ensure wires aren't damaged or pinched, avoid placing cords and wires under rugs, over nails, or in a high-traffic area of the house. Use safety caps to cover all unused outlets, especially if there are small children in the home.
6. Use appliances wisely
Follow the manufacturer's safety precautions when using appliances, and unplug them when not in use. If any appliances spark or have an unusual smell, turn them off, unplug them, and have them replaced or serviced by a professional. It is also important to use light bulbs that match the recommended wattage on lamps and other light fixtures.
7. Practice caution when using heating systems
Heating is the second leading cause of fire deaths in Massachusetts homes and the leading cause of carbon monoxide poisoning. Portable heaters should be at least three feet away from anything flammable. Clothes, curtains, and even rugs can cause a fire if they are too close to portable heating systems. If you're using a fireplace, use fire screens and be sure to have your chimney cleaned annually. Kerosene heaters should be used only where approved by authorities. When using one, never use gasoline or camp-stove fuel. Refuel a kerosene heater outside and only after the heater has cooled.
8. Prevent kitchen fires
Cooking is the leading cause of fires and fire injuries in the home. In 2012, kitchen fires caused an estimated $10 million in property damage in Massachusetts alone. To prevent a kitchen fire in your home, stay in the kitchen when cooking and don't leave pots and pans unattended. When baking or roasting food, check it regularly and use a timer to remind you when it's done. If there are young children in the house, use the stove's back burners if possible. Keep children and pets at least three feet away from the stove. When cooking, wear short or fitted sleeved shirts and use oven mitts to protect hands from hot liquid spills.