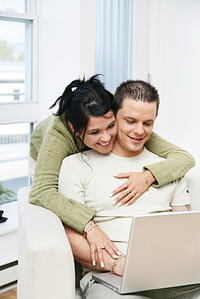 Average U.S. mortgage interest rates for 30-year, fixed rate loans declined for the third consecutive week, USA Today reported Thursday October 3, 2013.
Continued chaos in Washington D.C., some bleek economic news and the Federal Reserve's decision to continue purchasing mortgage-backed sercurities have resulted in rates dipping below mid August highs.
The 30-year, fixed rate mortgage loan averaged 4.22 percent this past week. It was 4.57 percent in the week that ended September 12, 2012, but a year ago rates stood at 3.36 percent, according to data from Freddie Mac.
The average rate on a one-year adjustable-rate mortgage loan was unchanged at 2.63 percent. The average rate on a five-year, adjustable-rate mortgage declined to 3.03 percent from 3.07 percent.
Interest rates are not the only consideration for first-time home buyers. Home buyers should consider closing costs and private mortgage insurance (PMI) when evaluating loan programs. Both Massachusetts and New Hampshire home buyers have several first-time home buyer program options.