The number of single-family homes sold in Sharon, Massachusetts increased 25 percent from 28 sales in July 2012 to 35 home sales in July 2013.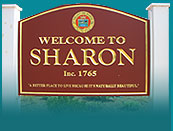 The Warren Group, publisher of Banker & Tradesman, provided the data.
Through the first seven months of 2013, 150 single-family homes sold in Sharon, MA, a 19 percent increase from the 126 homes sold during the same seven-month period in 2012.
The median price of a single-family home in Sharon increased 13.54 percent in July to $476,000 from $419,250 in July 2012. From January through July, the median price increased 15.44 percent to $450,225 from $390,000 during the same period in 2012.
There were not any condominium sales in Sharon in July, according to The Warren Group. Through July condo sales doubled from eight in 2012 to 16 condo sales this year. The median condo price declined 3.24 percent during that same period in 2013 compared to 2012.
Money magazine ranked Sharon, Massachusetts the No. 1 place to live in the United States in 2013.
Sharon, MA Homes For Sale
Single Family / Condo Properties for Sale in Sharon, Massachusetts Between $300,000 - $400,000
Single Family / Condo Properties for Sale in Sharon, Massachusetts Between $400,000 - $500,000
Single Family / Condo Properties for Sale in Sharon, Massachusetts Between $500,000 - $750,000
Single Family / Condo Properties for Sale in Sharon, Massachusetts Between $750,000 - $1,000,000
Single Family / Condo Properties for Sale in Sharon, Massachusetts Between $1,000,000 - $1,250,000
Single Family / Condo Properties for Sale in Sharon, Massachusetts Between $1,250,000 - $1,500,000