After initially declining a little at the start of the year and then remaining flat for about a month, average U.S. mortgage interest rates declined for the week ending March 2, 2017, according to Freddie Mac's weekly Primary Mortgage Market Survey.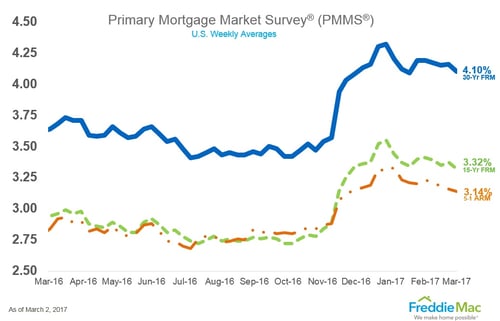 The 30-year, fixed rate mortgage loan, with an average 0.5 point, declined to 4.10 percent from 4.16 percent for the week ending March 2, 2017. During the same week last year, the 30-year note averaged 3.64 percent.
"The 10-year Treasury yield remained relatively flat this week, while the 30-year mortgage rate fell 6 basis points to 4.1 percent," Freddie Mac chief economist Sean Becketti said. "Since the beginning of the year, the 10-year Treasury yield has covered a 22 basis point range. The range of movement for the 30-year [mortgage] has been half that, just 11 basis points."
The 15-year, fixed rate mortgage, with an average 0.5 point, average 3.32 percent, down 5 basis points from the previous week. The 15-year home loan averaged 2.94 percent during the same period in 2016.
The 5-year, adjustable rate mortgage averaged 3.14 percent, with an average 0.4 point, down just 2 basis points.
It is important for homebuyers, especially first-time homebuyers, to understand that the above interest rates are averages and the actual interest rate may be higher or lower depending on the Massachusetts home loan program. Besides the type of loan, a homebuyers overall cost of borrowing will vary depending on the amount of your down payment, credit score, and other several other factors. Homebuyers should take the time to obtain professional advice from a competent, experienced loan officer.