Boston area exclusive buyer agent real estate firm bucks industry myth that agents must list homes for sale to survive. Buyers Brokers Only, LLC only represents homebuyers.
Haverhill, MA March 27, 2017 – Buyers Brokers Only, LLC's gross sales volume has grown every year since its inception in November 2005, putting the exclusive buyer agency in the top 100 of Massachusetts real estate firms in 2016 despite not taking listings.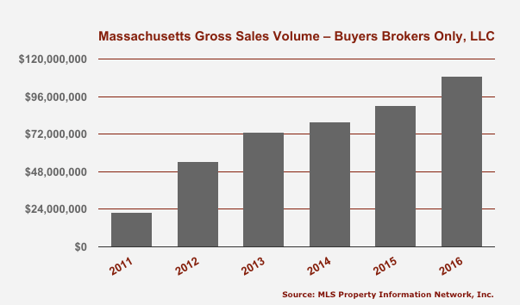 The number of transactions the firm has had each year has grown as well. In 2016, Buyers Brokers Only, LLC had 232 transactions in Massachusetts, with $108,976,366 in gross sales volume. Sales volume increased about 21 percent from $90,145,003 in total sales volume in 2015.
The nearly $109 million in sales volume ranked Buyers Brokers Only, LLC 97th out of the top 1,000 real estate firms in Massachusetts in 2016, according to residential real estate data compiled by MLS Property Information Network, Inc., the local multiple listing service. The company is licensed in New Hampshire too and had gross sales volume of $5,785,800 in the Granite State in 2016, a 40 percent increase from $4,131,613 in sales volume in 2015. The 26-agent brokerage totaled 248 transactions in both states, and it had nearly $115 million is gross sales volume in 2016.
"Providing uncompromised loyalty to homebuyers is good for business," Rich Rosa, co-founder of Buyers Broker Only, LLC, said. "When home-buying consumers learn that they can have a dedicated buyer agent help them navigate the process without the potential conflicts of interest that commonly arise with dual agency and designated buyer agency they jump at the chance."
Dual agency occurs when the same real estate agent or same real estate firm represents both the homebuyer and home seller in a real estate transaction. Both Massachusetts and New Hampshire allow disclosed dual agency. Designated agency, also authorized in both Massachusetts and New Hampshire, is when one real estate agent represents a buyer or seller and another real estate agent from the same brokerage represents the other party to the transaction.

Buyers Brokers Only, LLC does not ever represent sellers, so its brokers do not ever work as dual agents or designated buyer agents, thus avoiding the potential conflicts of interest that might arise with such representation.
"We have found that consumers want help, not hype," said Rosa, who founded the company with business partner Dave Kres. "By dedicating ourselves to one side of the transaction and by working as loyal advisors instead of salespeople, homebuyers know we have their back."
Less than 1 percent of real estate agents in Massachusetts and New Hampshire are exclusive buyer agents, so even if consumers are aware that they can work with a real estate agent that only works with homebuyers they may not be able to find one in the areas they want to buy a home. Also, homebuyers are not always aware of potential conflicts of interest or the roles of real estate agents. Even when real estate agents correctly present state-mandated agency disclosures, consumers believe that they have an agent's undivided loyalty, but that is rarely the case.
"In an industry often accused of worrying more about commissions than consumers, the exclusive buyer agency business model is a win-win for consumers and real estate brokerages," Rosa said. "Exclusive buyer agency is an opportunity for real estate agents to set themselves apart and for homebuyers to have loyal and undivided representation."
ABOUT BUYERS BROKERS ONLY, LLC: Founded in November 2005, Buyers Brokers Only, LLC's business model has always been to avoid the conflicts of interest that often arise between real estate agents and their clients. The real estate agents at Buyers Brokers Only are 100 percent loyal to homebuyers 100 percent of the time. No buyer agent at the company ever represents sellers so every buyer agent can provide dedicated buyer agency services to their home-buying clients. Buyers Brokers Only serves homebuyers in Massachusetts and New Hampshire, helping buyers in Eastern Massachusetts and Southern New Hampshire. Buyers Brokers Only does not ever represent sellers. Also, all the real estate brokers at Buyers Brokers Only, LLC are licensed attorneys, adding a level of professionalism that clients appreciate and rave about.