Attorney Erin Semcken recently joined Buyers Brokers Only, LLC, one of the largest exclusive buyer agent real estate firms in the United States, as an associate broker working in and around Plymouth, Massachusetts.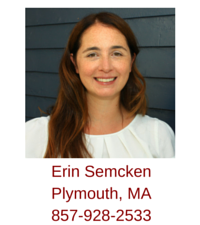 Erin provides homebuyer representation services to first-time homebuyers and homebuyers experienced in purchasing real estate in Plymouth, MA, as well as Middleborough, Kingston, Carver, Plympton and surrounding Plymouth County and upper Cape Cod communities.
Erin is a licensed real estate broker in Massachusetts and a member of the National Association of Exclusive Buyer Agents. She also is a member of the Massachusetts Association of REALTORS, Cape Cod & Islands Association of REALTORS and the National Association of REALTORS.
Erin obtained her Bachelor's of Science degree in chemical engineering in 1998 from Rensselaer Polytechnic Institute. After working in the pharmaceutical industry for a decade, Erin began studying law and obtained her Juris Doctor degree from the University of Massachusetts School of Law in 2010. She is admitted to practice law in the Commonwealth of Massachusetts and in the United States District Court for Massachusetts.
Following law school Erin was awarded a fellowship and worked as a law clerk to the Justices of the Massachusetts Superior Court. In 2011 she formed her own law practice with offices in Bourne and Plymouth. Erin specialized in bankruptcy, real estate and small business formation. Her portfolio of real estate transactions also included successful closings for a multitude of complex short sales. Erin also became a real estate broker in 2013 for a local realty company and closed a number of transactions for properties in Plymouth and Barnstable counties during her time with that company.
Erin grew up in Hudson, Massachusetts, and she and her family currently live in downtown Plymouth.
Erin can be reached by email, or by calling her mobile (857) 928-2533.
About Buyers Brokers Only, LLC: Buyers Brokers Only, LLC exclusively represents homebuyers, and all its real estate brokers also are lawyers. Because Buyers Brokers Only, LLC only represents homebuyers, and not ever sellers, it's 100 percent loyal to its homebuyer clients 100 percent of the time. With the headquarters located in historic downtown Haverhill, Massachusetts, the more than 25 buyer brokers at Buyers Brokers Only, LLC cover an area that includes Boston, Boston's south and north shores, MetroWest, the Merrimack Valley, Central Massachusetts, Southeastern Massachusetts, upper Cape Cod and Southern New Hampshire.