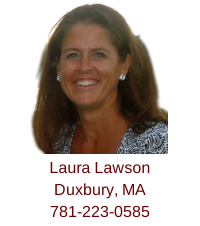 Attorney Laura Lawson recently joined Haverhill, MA based real-estate firm Buyers Brokers Only, LLC as an associate broker. Laura is a licensed real estate broker and exclusive buyer agent working out of Duxbury, Massachusetts.
Laura is a member of the nonprofit National Association of Exclusive Buyer Agents. She also is a Realtor, and a member of the National Association of Realtors, Massachusetts Association of Realtors, and the Greater Boston Association of Realtors.
Laura received her Bachelor of Science Degree in pre-veterinary studies from the University of Missouri in 1983. After working in management for 10 years, she switched gears and earned her Juris Doctor in 1995, magna cum laude, from New England School of Law. She has been licensed to practice law in the Commonwealth of Massachusetts since 1995. Laura's legal practice has been primarily concentrated in real estate and tax law.
Laura grew up in Maine and has been living in Massachusetts for more than 25 years. She has owned a home in Duxbury since 1998 where she lives with her husband and three daughters. Laura has been an active volunteer in the Duxbury Public Schools and the Town of Duxbury, serving on school council, athletic boosters board and the conservation commission. In her free time, she enjoys sailing around New England and watching her girls play every sport imaginable.
Laura helps first-time and experienced home buyers in Duxbury, Marshfield, Pembroke, Kingston and other South Shore communities. Laura can be reached at llawson@buyersbrokersonly.com or by calling her mobile at (781) 223-0585.
About Buyers Brokers Only, LLC: Buyers Brokers Only, LLC is the largest exclusive buyer agent real estate firm in Massachusetts. It exclusively represents home buyers, and all its real estate brokers also are lawyers. Because Buyers Brokers Only, LLC only represents home buyers, and not sellers, it's 100 percent loyal to its home buyer clients 100 percent of the time. With the main office located in Historic Downtown Haverhill, Massachusetts, brokers at Buyers Brokers Only, LLC cover an area that includes Boston, Boston's south and north shores, Metro West, the Merrimack Valley, Central Massachusetts and Southern New Hampshire.