Attorney John Tedeman recently joined Buyers Brokers Only, LLC, one of the largest exclusive buyer agent real estate firms in the United States, as an associate broker, working in and around Boston's Charlestown neighborhood.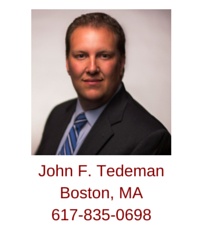 John provides homebuyer representation to first-time homebuyers and those experienced in purchasing real estate in Charlestown, the North End, Beacon Hill, Boston's Waterfront, Back Bay and surrounding communities in and around Boston.
John is a licensed Massachusetts real estate broker, a member of the National Association of Exclusive Buyers Agents, the Greater Boston Association of REALTORS, the Massachusetts Association of REALTORS and the National Association of REALTORS.
John received his Juris Doctor degree from Suffolk University Law School in 2013 and is admitted to practice in the Commonwealth of Massachusetts. John has practiced law in the areas of real estate, land use and other areas.
Prior to attending law school, John was a special agent with the Office of the Inspector General for Social Security. He worked in that capacity for six years in Los Angeles and Boston, investigating fraud, identity theft, and other crimes.
John grew up in the Back Bay neighborhood of Boston. He is a 1996 graduate of the Roxbury Latin School in West Roxbury and a 2000 graduate of Princeton University. At Princeton he was a four-year member of the varsity baseball team.
John lives in Charlestown where he and his wife are raising their daughters. He and his family enjoy living in the city and taking advantage of all the parks, restaurants, and other activities an urban lifestyle has to offer.
John can be contacted via email or mobile phone (617-835-0698) to schedule a no-obligation, personal consultation to discuss your home search, the Boston real estate market, your wants and needs and his dedicated exclusive buyer agent services.
About Buyers Brokers Only, LLC: Buyers Brokers Only, LLC exclusively represents homebuyers, and all its real estate brokers also are lawyers. Because Buyers Brokers Only, LLC only represents homebuyers, and not ever sellers, it's 100 percent loyal to its homebuyer clients 100 percent of the time. With the headquarters located in Historic Downtown Haverhill, Massachusetts, the more than 25 buyer brokers at Buyers Brokers Only, LLC cover an area that includes Boston, Boston's south and north shores, MetroWest, the Merrimack Valley, Central Massachusetts, Southeastern Massachusetts, upper Cape Cod and Southern New Hampshire.