Brookline, Massachusetts resident David Pearlman recently joined exclusive buyer agent real estate firm Buyers Brokers Only, LLC as an associate real estate broker.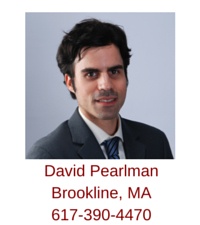 David helps first-time homebuyers and those experienced in purchasing real estate find homes in his hometown of Brookline, MA, as well as in West Roxbury, Chestnut Hill, Newton, and surrounding communities located in Middlesex, Norfolk and Suffolk counties.
David is a licensed real estate broker in Massachusetts. He is a member of the National Association of Exclusive Buyer Agents, as well as a member of the National Association of Realtors, Massachusetts Association of Realtors, and the Greater Boston Association of Realtors.
David earned his Bachelor's of Arts, summa cum laude, Phi Beta Kappa, in American Studies from Brandeis University in 2004. He graduated from Boston University School of Law in 2007. He is licensed to practice law in the state bars of Massachusetts and New Hampshire, the District of Columbia Court of Appeals, and the United States District Court for Massachusetts.
David grew up in Massachusetts and has been living in Brookline for nearly 30 years. Elected into public office by the residents of his district, he serves as a member of Brookline Town Meeting, where he represents the Chestnut Hill section of his hometown and evaluates real estate development projects. In his spare time, he enjoys playing tennis and rollerblading.
You can reach David by email, or by calling his mobile phone (617-390-4470) in order to schedule a personal homebuyer consultation. David discusses a potential client's home search and explains the home-buying process in detail, thoroughly answering all questions.
About Buyers Brokers Only, LLC: Buyers Brokers Only, LLC exclusively represents homebuyers, and all its real estate brokers also are lawyers. Because Buyers Brokers Only, LLC only represents homebuyers, and not ever sellers, it's 100 percent loyal to its homebuyer clients 100 percent of the time. With the headquarters located in historic downtown Haverhill, Massachusetts, the more than 25 buyer brokers at Buyers Brokers Only, LLC cover an area that includes Boston, Boston's south and north shores, MetroWest, the Merrimack Valley, Central Massachusetts, Southeastern Massachusetts, upper Cape Cod and Southern New Hampshire.