Billerica, Massachusetts resident Attorney Anya Kennedy has joined exclusive buyer agent real estate firm Buyers Brokers Only, LLC as an associate broker.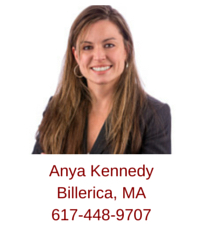 Anya, a licensed Massachusetts real estate broker, helps home buyers in Billerica, Tewksbury, Chelmsford, Carlisle, Bedford and surrounding cities and towns.
Anya is a member of the National Association of Exclusive Buyer Agents, Greater Boston Association of REALTORS, Massachusetts Association of REALTORS and National Association of REALTORS.
Anya provides prospective clients with a free home buyer consultation where she will answer any questions or concerns home buyers may have regarding the entire home-buying process, from home loan programs to closing.
Anya received her Bachelor's of Art degree in English from the University of Massachusetts Amherst in 2000. Anya went on to teaching students in Boston Public Schools for a number of years. She then decided to enroll at the Massachusetts School of Law where she received her Juris Doctor degree in 2010. She has been licensed to practice law ever since.
Anya grew up in Medford, MA, but now lives with her husband, daughter and son in Billerica, MA. She enjoys exploring the outdoors, cooking, and reading with her children. Anya also enjoys volunteering for Citizens School, a non-profit organization for inner city students.
If you wish to contact Anya for a personal home buyer consultation, you can reach her via mobile phone at (617) 448-9707 or by email at akennedy@buyersbrokersonly.com.
About Buyers Brokers Only, LLC: Buyers Brokers Only, LLC is the largest exclusive buyer agent real estate firm in Massachusetts. It exclusively represents home buyers, and all its real estate brokers also are lawyers. Because Buyers Brokers Only, LLC only represents home buyers, and not sellers, it's 100 percent loyal to its home buyer clients 100 percent of the time. With the headquarters located in historic downtown Haverhill, Massachusetts, the more than 20 buyer brokers at Buyers Brokers Only, LLC cover an area that includes Boston, Boston's south and north shores, MetroWest, the Merrimack Valley, Central Massachusetts, Southeastern Massachusetts, parts of Cape Cod and Southern New Hampshire.