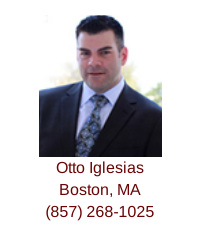 Attorney Otto Iglesias, a resident of Boston's Back Bay, recently joined Haverhill, MA-based real estate firm Buyers Brokers Only, LLC as an associate broker. Otto Iglesias is a licensed real estate broker and exclusive buyer agent who will be working from Boston, Massachusetts.
Otto helps first-time home buyers and those experienced in purchasing real estate in Boston's Back Bay neighborhood as well as other Boston neighborhoods, including East Boston, Charlestown, Jamaica Plain, the City of Cambridge, and surrounding Greater Boston Area communities.
Otto is a member of the National Association of Exclusive Buyer Agents, as well as the nonprofit Massachusetts Association of Buyer Agents. He is a realtor with membership in the National Association of Realtors, Massachusetts Association of Realtors, and the Greater Boston Association of Realtors.
Otto earned a Juris Doctor from Michigan State University College of Law in 1999 and an LL.M. degree in Trial Advocacy from the Temple University Beasley School of Law in 2007. He earned a Bachelor's of Science Degree from Florida International University in 1994. He is admitted to practice law in the Commonwealth of Massachusetts and the State of Connecticut.
Early in his career, Otto spent considerable time as a staff attorney at a non-profit children's organization. While in that position, he was called on to represent children in high conflict custody cases, provide conflict resolution support to high conflict parents and offer legal assistance through an informational hotline. Otto has been asked to speak at Hartford Interval House and at the Connecticut Children and Domestic Violence Collaboration. His remarks focused on the role of the attorney or guardian ad litem for children who have experienced domestic violence. Temple University has invited Otto to serve as a visiting panelist at the Beasley School of Law. He instructs lawyers studying trial advocacy regarding techniques for honing their trial advocacy skills.
Fluent in Spanish, Otto was born and raised in Miami, Florida. In his spare time, he enjoys attending music concerts, playing racquet sports and spending time with his family.
Otto currently lives in the Back Bay section of Boston. He can be reached at oiglesias @ buyersbrokersonly.com or by calling his mobile at (857) 268-1025
About Buyers Brokers Only, LLC: Buyers Brokers Only is the largest exclusive buyer agent real estate firm in Massachusetts. It exclusively represents home buyers, and all its real estate brokers also are lawyers. Because Buyers Brokers Only, LLC only represents home buyers, and not sellers, it's 100 percent loyal to its home buyer clients 100 percent of the time. With the main office located in Historic Downtown Haverhill, Massachusetts, buyer brokers at Buyers Brokers Only, LLC presently cover an area that includes Boston, Boston's south and north shores, Metro West, Central Massachusetts, the Merrimack Valley and Southern New Hampshire.