Attorney Eliza Parker recently joined Buyers Brokers Only, LLC, the largest Massachusetts exclusive buyer agent real estate firm, as an associate broker, working in and around Attleboro, Massachusetts.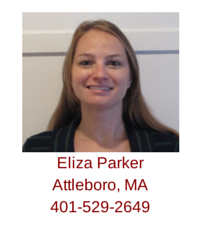 Eliza is a licensed real estate broker in Massachusetts, and she is 100 percent loyal to home buyers 100 percent of the time. As an exclusive buyer agent, she only represents home buyers, never sellers. Eliza is a member of the National Association of Exclusive Buyer Agents, Massachusetts Association of Buyer Agents, Greater Boston Association of REALTORS, Massachusetts Association of REALTORS and National Association of REALTORS.
Eliza helps first-time home buyers, as well as those more experienced in buying real estate, in Attleboro, MA, as well as surrounding Bristol County cities and towns, including Taunton, North Attleboro, Rehoboth, Norton and Seekonk.
Eliza received her undergraduate degree, magna cum laude, in Social Sciences from Providence College, and, in 2009, she earned her Juris Doctor Degree from Northeastern University's School of Law. Eliza is admitted to practice law in the Commonwealth of Massachusetts and the United States District Court for the District of Massachusetts. Besides working as a real estate buyer agent, Eliza has experience in the fields of employment law, foreclosure defense, contracts and transactions and franchise law.
Eliza currently resides in Providence, RI with her husband Steven and enjoys gardening and taking on numerous DIY projects around their home. When not working, Eliza tries her hand at cooking, baking and learning to speak Portuguese. She and her husband also love to travel around Southern New England, trying all the unique and interesting restaurants the area has to offer.
Eliza can be reached by email, or by calling her mobile phone (401-529-2649) in order to schedule a personal home buyer consultation.
About Buyers Brokers Only, LLC: Buyers Brokers Only, LLC is the largest exclusive buyer agent real estate firm in Massachusetts. It exclusively represents home buyers, and all its real estate brokers also are lawyers. Because Buyers Brokers Only, LLC only represents home buyers, and not sellers, it's 100 percent loyal to its home buyer clients 100 percent of the time. With the headquarters located in Historic Downtown Haverhill, Massachusetts, the more than 20 buyer brokers at Buyers Brokers Only, LLC cover an area that includes Boston, Boston's south and north shores, MetroWest, the Merrimack Valley, Central Massachusetts, Southeastern Massachusetts and Southern New Hampshire.