When a Massachusetts homebuyer purchases land to build a new construction home that will need a septic system, a percolation test, commonly referred to as a "perc" test, must be completed to determine the design of the septic system.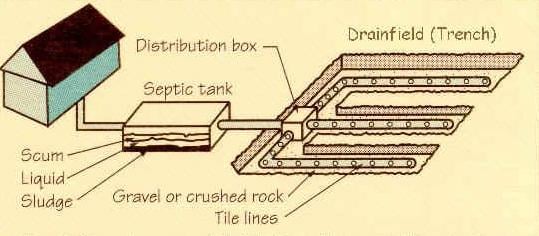 Homes that are not connected to a local sewer system use septic systems or cesspools, both of which are regulated by the Massachusetts Department of Environmental Protection (DEP) and the boards of health or the equivalent in cities and towns. Local boards of health are the primary regulatory authorities; however, the DEP is involved in certain approvals.
A septic system has a tank, a distribution box, and soil absorption system commonly known as a "leach field" or "leaching field."
A perc test is a test to determine the absorption rate of soil for a septic drain field or leach field. A percolation test consists of digging one or more holes in the soil of the proposed leach field to a specified depth, pre-soaking the holes by maintaining a high water level in the holes, then running the test by filling the holes to a specific level and timing the drop of the water level as the water percolates into the surrounding soil.
The state does not set restrictions on the times of the year that percolation tests can be conducted; however, some cities and towns restrict the times of the year perc tests can be peformed.
The results of a percolation test are required to properly design a septic system. In general terms, percolation testing is simply observing how quickly a known volume of water dissipates into the subsoil of a drilled hole of known surface area. According to Title 5, the Massachusetts septic system law, soil with a rate slower than 60 minutes per inch is not acceptable for septic system installation.
In general, sandy soil will absorb more water than soil with a high concentration of clay or where the water table is close to the surface.
Under certain conditions, to determine the perc rate when the soil is too wet to perc, the State of Massachusetts allows soil to be tested in a soil lab. This policy is permitted for repairs and upgrades only, not new construction.
The cost of perc test that meets all local requirements for a septic or drainage system permit can range between $300 and $1,000 or more depending on the lot size and conditions.
Illustration courtesy of the United States Environmental Protection Agency.